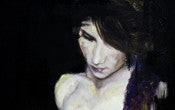 LE FEMME - April 25, 2008
$0.00
LE FEMME
An exhibition featuring the art of Leah Sarah Bassett,
and also introducing four new artists to the Art Whino Collaboration:
Francesco D'Isa, Lisa Adams, Patrick Fatica and Nicolas Gracey


National Harbor, MD, Art Whino (www.artwhino.com) Art Whino announces: Le Femme: A Look into the Female Psyche, The Art of Leah Sarah Bassett. The Le Femme exhibition will also showcase four new artists being added to the Art Whino Collaboration: Francesco D'Isa, Lisa Adams, Patrick Fatica and Nicolas Gracey. The opening reception is April 25th, 2008 from 6pm to Midnight at our new National Harbor location. 173 Waterfront Street National Harbor, MD 20745. The event is FREE and open to the public.

DJ Stylo will be on the turntables.

Special performances by I.R.E and LaVondra Shinholster.

The exhibition will run through May 25th
Leah Sarah Basset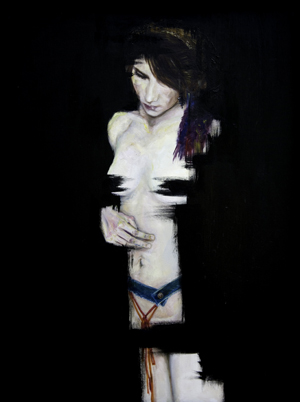 Leah Sarah Bassett is a 24 yr old local artist. She is originally from both Cape Cod and the Berkshires of Massachusetts. She picked up the paintbrush at a very early age due to the influence of her parents, Alice Babcock Lynch and Marc Bassett; accomplished artists in the New England area. Throughout schooling, Leah participated in many GT art programs. In high school, she became intrigued by the human anatomy and started attending live model sittings. Since childhood, she meticulously studied realism for years and during teenage rebellion, explored more abstractly. For the past few years, Leah has been experimenting with several techniques and mediums, integrating the contrasting styles. She feels she has grown into mixtures that best convey her ideas. She attended Corcoran School of Art and Design and had a studio in Howard County Center of the Arts in Maryland but now works from home. Artistic influences include Leonardo da Vinci, Rembrandt, Caravaggio, Klimt and Egon Schiele. Her main focus is the female psyche, which is continuously semi-autobiographical. Her pieces convey feelings from youth to young adult-hood, including happiness, loves, fears, thoughts on life and death, religion, sexuality, beauty, confusions, and depression, to name a few. Leah feels that art is productive therapy and meditation for her. Even a painful memory becomes a beautiful experience celebrated on canvas.

Francesco D'Isa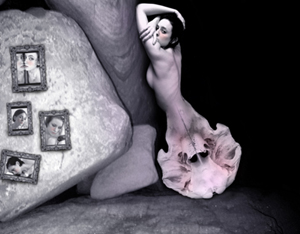 My artistic path is really personal, if not idiosyncratic, however I haven't got any statement about my art at all, so to write one is a pretty difficult task for me. I have never come up with a statement not in force of beliefs like "art for art's sake", "the indefinable status of art", or similar. No matter how much truth there might be in quotes like these, I'd never assert any because making art isn't a mission for me – not a goal, but a way, a medium. I could do anything else, like play tennis, cook or kill to pursue the same goal, I'm pretty sure about this. So I can't tell what my art aims at. To tell at what I aim is not an easy task either. My goal lies in the median point between two parallel lines: the A line is in pursuit of my identity, survive my human instincts, being any of my selves trough oceans of canons, playing the games I'm coerced to play, building moral and aesthetic behaviors and so on. The B line is to lose my identities, to be free from my human instincts, to transcend and in some way destroy the A line. Both lines clearly are exaggerations, ideals and definitively crocks, but that is not the point. I can't refuse neither the a nor B line, I must take both, so my aim is between them, in a place I'd call being strongly myself with accurate nonchalance. The lines are infinite (like all lines) and will never meet (like all parallels lines); both the lines are well defined too – like my art, I suppose. Art-making is for me what praying is for a saint, cooking for a cook, killing for a killer, love-making for a lover, rule for a dictator. In a certain sense, I feel myself near to anyone. But I've got my preferences, my skills, and one of those is my art, which I want to pursue with clear-headed and aware fanaticism. These words are poor, and probably fail to make up a statement. I'll try to recover this little flood of words with a final expedient-quote by Leonardo da Vinci: "I can't describe with words what I better describe with images"
Lisa Adams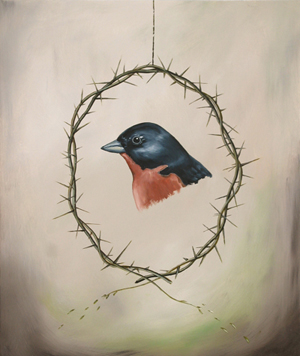 Lisa Adams is a painter and public artist who lives and works in Los Angeles, California. Ms. Adams graduated with a B.A. in Painting from Scripps College in Claremont, California and received her M.F.A. from
the Claremont Graduate University.

She is the recipient of a Fulbright Professional Scholar Award, a Brody Arts Fund Fellowship and a Durfee ARC Grant. Her work is in the collections of Eli Broad, The Frederick Weis¬man Museum and the Laguna Museum of Art.

She has taught in many established art departments throughout the Los Angeles area and abroad, including the University of Southern California, the Claremont Graduate University and Otis College of Art & Design in Los Angeles.

In addition to her practice as an artist, Ms. Adams works as an independent curator, who in 2000, co-founded Crazy Space, an alternative exhibition space, in Santa Monica. She is also the author
of "FM*," (Peeps Island Press, 1999) a How To book about painting, based on her teachings at the Santa Monica College of Design, Art and Architecture between 1997-1999.

Ms. Adams has been an artist-in-residence in Slovenia, Finland, Japan, Holland and Costa Rica. Her work has been exhibited nationally and internationally. She was also commission by BMW of North America to paint an ArtCar. She has been included in "A Day in the Life of the American Woman, " Bullfinch Press, 2005, and is currently working on a public art commission for the new Fire Station No. 64 in Watts.

Nicolas Gracey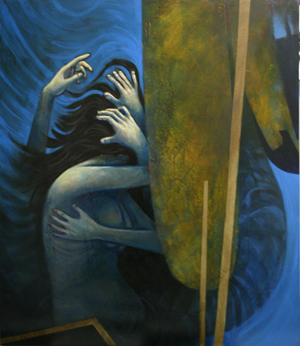 If asked to say how I perceive my artworks, I would say that I see them as mirrors reflecting life in unconventional ways. Each work represents a passage in life, exploring feelings, dreams, desires, sins, regrets—in short, the various aspirations and difficulties that human beings experience in their everyday life and in their spiritual existence.

I base my artworks on real events and personal experiences. I try to tell these stories through personal contemplation, with a mixture of figurative images, symbolism, lines and abstract shapes.

By combining abstract shapes, lines and shadows, I strive to create a mood within which the main artistic plot may unfold. I seek to invite a viewer's consciousness to roam free, interpreting an artwork in his/her own way. Yet I provide figurative images and symbolism to provide viewers realistic parameters to guide them to discover and embrace the main idea or content of a work. In the end, though, I believe that each piece of art does not have a specific significance, for its import can change with the thoughts and beliefs of each particular viewer.
Patrick Fatica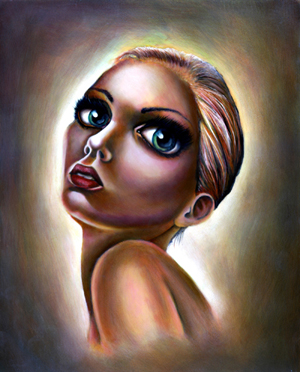 Patrick Fatica attended Ringling School of Art and Design from 1990 to 1994. He moved to Orlando, Florida in 1995 where he spent the first few years in Orlando directing several original plays and completing the short 16mm film "Five Miles from Heaven," which appeared in festivals around the country. After completing the short film, he and his two friends and business partners opened and designed a bar/music venue on the east side of Orlando which they named Back Booth. In 2001 they moved the venue to a much larger location in downtown Orlando. There he dealt with all graphic design, advertising, and scenic applications, along with being the house soundman. After almost ten years traveling down different artistic paths, he realized his need to return to his love for the fine art of painting. Finally, he picked up the paintbrush again and dedicated himself to doing what he loves. Patrick is currently working as a freelance illustrator and graphic designer and continues to paint for shows and exhibitions.

My paintings usually start with a color idea, along with an emotive concept. They then evolve into compositions in which color and light are the primary subject. The subject matter usually revolves around "pop surreal" portraits mostly of women. I try to create a feeling in the color choices and their expressions rather than illustrate it through symbols or content. Over the last two years my color palette has changed from the very vibrant spectrum to a more subdued and subtle representation. The idea is for the viewer to read the title, such as: "Back in the Woods, Under Ashes, There is a Stone" or "Bright and Bubbly Terrible Thing that was Doing Her Thing" and relate it to the painting in order to create a visceral narrative and back story of the subject. All of my paintings are done on hardboard with thin oil glazes separated by layers of Crystal Clear. Upon approach the viewer can see the many underlying layers, which can be seen as "technical symbolism."

DJ Stylo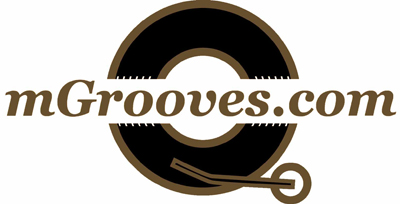 As it turns out, DJ Stylo's career with, and passion for, music is not a new phenomenon. Rather, it has its roots in the happenings of a childhood rich with diversity and inspirations. Jazz, classical piano, trumpet lessons, breakdancing with friends and family, all these influences have caused the music fan in him to surround itself constantly with rhymes and rhythms. The music must reign.

DJ Stylo's (pronounced Stee-low) focus and specialty these days is mainly House, deep and soulful. He also has a vast repertoire of Downtempo styles, ranging from Nu Jazz and Neo-Soul to Brazilian, Dub Reggae, and to underground, noncommercial hip-hop rhythms filled with the pulsing sounds of urban society. The DJ has been hired to showcase his unique blend of sounds at a variety of events, including clubs and lounges, art gallery shows, and private parties from Atlanta to Pennsylvania.

This DJ has been spinning on and off since 1985, his first piece of equipment was two Technics tape decks in which he over-dubbed songs to create a mix for the group of guys that he and his brother were breakdancing with. His latest foray into this arena began in early 2001, when he moved back into the greater Washington D.C. Metro area. Although already busy with a daytime career in the computer industry (he is the Information Technology Director at the oldest school of music in the United States), he found that his love for music just wouldn't let go. The desire to bring music to dancers and party-goers that would not necessarily be heard on the corporate radio waves would not let him rest. Thus, he brought together some of the music in his collection into an eclectic mix and started passing it around to friends.

Through this labor of love, he has also been able to be one of the first local outlets to feature the music of diverse talents such as Si*Se (www.sisenyc.com, Turntables On The Hudson), Kristia Di Gregorio (kristia.com), Eli and Joos (GroovaDelica.net), Ms. Nyema (famousnobodies.com, DC), Sunchasers (UK) which recently had their hit 'Sunshine in London' featured on Ugly Betty (ABC), Adventures in Sound (UK), and Dolphin (www.wardolphin.com, Baltimore). DJ Stylo has also been busy with producing his own music and remix projects, including his exclusive remix of Sade's Bullet Proof Soul (2006).
I.R.E.
The I.R.E. molds their tracks out of inventive production elements, creative concepts, and an explosive chemistry stemming from a lifelong friendship giving this group a uniquely refreshing solidarity not often found in today's Hip-Hop community. In a time where a single emcee seeks to be their own rising star, the I.R.E. have dedicated themselves to a mutual cause where the primary concern is creating music for the love of music, with innovation as their strongest asset. Shi Town and Tyler Durden (a.k.a. Manic Impressive) have created for themselves a sound that combines raw energetic angst with a Hip-Hop repertoire reminiscent of days past, but with a new flavor spawning from their earlier endeavors in punk rock bands and other musical interests. The 25-year-old duo is locally known for playing shows anytime, any place, under any circumstances. They have rocked sets to full crowds on large stages accompanied by a DJ, to putting a CD with their beats in a boom-box and shouting their raps with no microphones to a basement full of eager listeners. Their antics at shows have gained them a reputation as two cats who will do whatever it takes to get their voices heard. The I.R.E. are currently working on new material, as well as booking a summer tour on the underground circuit. Both Shi Town and Tyler Durden involve themselves in other music projects including hip-hop group Omega 1ne Crew. Both emcees are also hard at work on their other artistic endeavors. Shi Town is an accomplished writer and published author, and Tyler Durden keeps busy with his solo hip-hop project "Manic Impressive" as well several bands such as Dawn Treader, Hobis and The Summer
LaVondra Shinholster
LaVondra Shinholster has been studying dance since the age of 8. She started dancing with a Dance group affiliation by the name of NBA Studios in 1995. In 2001 she started advancing her study and dance at Marcellus Dance Studio in Forrestville, Md. where she was introduced to Pointe and Hip-Hop. As of today she is still dancing in the Washington, DC area and just recently performed in San Francisco, Ca. for a production called "Sheer Madness" in November 2007. Today is a dance Instructor at NBA studios where she teaches Ballet and Modern to young girls ages 5-15.