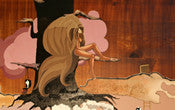 Foox - April 5, 2008
$0.00
Art Whino opens the doors of its new second location at the National Harbor with:
FOOX: The art of David and Jessica Foox

Alexandria, V.A. Art Whino (www.artwhino.com) Art Whino opens the doors of its new second location at the National Harbor with: FOOX: The art of David and Jessica Foox, April 5th, 2008 from 6pm to Midnight at our new location. The event is FREE and open to the public.

The exhibition will run through April 19th from 10 am – 10 pm from Monday – Saturday, and Noon – 6pm Sundays.

This grand opening event will be from 6pm – Midnight, and also feature music from DJ Lil'e. Join us for an evening of exceptional art, great music

Art Whino's new address of its second location:

173 Waterfront Street,
National Harbor, MD 20745

David Foox
Mr Foox creates art for the love of beautiful things, hidden messages and meanings, and all that is magical.

"My goal is to overwhelm the mind with images and colors that swim with each other and throughout the canvas or board. I have adopted an approach that is part anime, part pop, and part old skool shading. Being color blind myself has simply meant using stronger contrasts in shading and more reds and browns. It also means that while something looks well shaded to me, it must REALLY pop for anyone else with normal vision! My inspiration comes from: the number "8", dragons, graf lettering, inane politics, time and space travel, good kicks, acrylics, the color "ice blue", and loud music. Thanks for reading this far." Mr Foox resides and creates in Dallas Texas with his wife and partner Jessica and their Wheaton terrier Stetson. Together they continue to create a prolific body of work for representative galleries and people that ask nicely. Mr Foox loves his art the way he loves his Texas steak - well done champ. Born in South Africa but reared in New Zealand, Mr Foox makes quite the Texas transplant.

Jessica Foox
I was born in Hadley, MA in the 80's. I grew up surrounded by a mixed Euro-Mediterranean heritage. Growing up with such contrasting cultures and surroundings has greatly influenced my art. I started with simple monochrome sketchings. I would always draw humans - mostly the female form. I think being one myself (human and female that is) made me feel more comfortable making pictures of them.

After studying art therapy and working in the field, I decided to leave this career path and pursue painting full time. In short, I started doing what I love.

Street art played an enormous role in why I started painting - because it allowed me to add color to my drawings. Teaching yourself to paint and to create your own reality on each canvas is one of the greatest joys an artist can experience. It may have taken me longer than most, but I was born an artist. When my husband David and I met and started working together- we both new it was our dream and we dropped all of our extra baggage to fully get into it.



I don't limit myself to painting any specific thing, but looking at my work anyone can see that I paint a lot of human creatures. I feel like being a human allows my mind to work very intimately with the subject on my canvas. Limbs, musculature, flesh, hair, breasts, and even feet - they all fascinate me. I love painting the human body. It is a vessel we are all given to roam around in. I love to explore ideas of human consciousness, awareness, dreamlike states, and emotion in my paintings. Being exposed vulnerable sensual and whimsical. Painting on a clean canvas is like creating my own dreams without sleeping. If you can dream it, it will come.