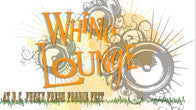 Whino Lounge at D.C. Funky Fresh Foodie Fest - August 25, 2012
$0.00
Art Whino joins the "Funky Fresh Foodie Fest" to contribute yet another dimension to an already amazing event.  In conjunction with the endless foodie delights, craft beer pairings and live music, Art Whino will be creating the Funky Fresh Whino Lounge. Using found objects, pallets and vintage speaker boxes, Art Whino will create a chill lounge for patrons to sit, relax and get out of the sun. With ambient music playing through the speaker boxes and visual eye candy from local artists the lounge will delight the senses with its changing environments from one artist's space to another. Painting stations throughout the lounge will give the opportunity for patrons  to apply their inner creativity to funky old school records and record covers. These items will be displayed throughout the lounge and will funkify the space as the collection grows throughout the day.
Participating Artists:
Bobby Moore A.K.A. PORE
I love what the mind and a couple of spray cans can conceive onto a surface. When I approach a wall I will usually start with lines and shapes, then I take a step back and let the real fun begin. I look for faces and over time I'v grown to love certain faces which you might see again and again. This new style I have grown into found me one night in a dream and I was lucky enough to capture them onto paper as an idea. The group of characters I paint are fused together by forces I yet to understand, mainly gravity in some unknown dimension, they float around time and space mainly on walls surrounded by graffiti and architecture, or music events. When the group is startled by sound and color they go into self defense of excitement, nervousness and a whole list of emotions. When startled like this they will militarize and shoot rockets, a lot of rockets and lasers at anything which gets too close. They truly are a party within themselves. Enjoy

Brandon Hill
Hill was born and raised a bit up the road in Baltimore, Maryland. He is a graduate of the University of Maryland, College Park in 2005. He possesses a thorough knowledge of very obscure materials and is avid on continuing to learn new methods of creating. His work is a mixture of scratch built and re-purposed/assemblage works as well as 2-d painting. Although he started mainly as an illustrator, his eye for detail and technical knowledge of materials has led to his style. He has several works in collections, Including several commissioned pieces in Reginald Lewis Museum of African American History and Culture in Baltimore.

Eric B AKA Vice Versa
Originally from Monrovia, Liberia West Africa, Eric B has been residing in the United States with his family as a political refugee since 1990. He completed high school at Quince Orchard High where he was first introduced to his first love, traditional film photography. After graduating from high school, he briefly pursued photography at Montgomery College.  During the 90's Hip Hop culture Blooming in  the DMV  which was underscored with the "Aerosol Street Art Scene".  Eric was drawn in and immersed into the scene and committed to a life pursuit of this culture. Later his interest expanded as he explored many other forms of creative self expressions in traditional painting (acrylic and oils), collage, sculpture, fashion design, book making, interior design and remodeling.  Seeing himself as a life long student to the many disciplines of creative expression, the arts has been the focal interest which has lead him to a path of spiritual awareness and self enlightenment. Witnessing the destructive side of mankind and being a child survivor of war, Eric B uses art as a medium for hope, change and love.
Gregg Deal

Gregg Deal, 36 years old, and a 12 year resident of the Washington DC Metro area is emerging in the area as a prolific, technical and imaginative artist. Time as a young man immersed in graffiti and street art throughout the 90's, eventually Gregg was trained in traditional fine arts, specifically oil and drawing as well as graphic design. With A few minor shows on the East Coast just out of college, and a mentorship with performance artist James Luna and a trip to the Venice Biennale he is reemerging as a force marrying graffiti/street art, his fine art training, and professional experience in graphic design. Working primarily with acrylic based spray paint, Gregg works in various subjects such as portraiture, animals, typographical letters, and original characters using commentary that are both narrative and social. Heavily informed by the world he lives in, his work takes on a roll of irony, humor, drama and social commentary.I'm  Brandon Hill a DC based, Charm City raised artist/designer.  If art were the movies, I'm definitely the "Spaghetti Western" a cohesive mix trying to be both throwback and avant-garde. I'm from a really strange town that can be as dangerous as it is friendly, and whose cuisine is top notch but only from the shabbiest of joints. I grew up with a hammer in my hand and that was refined upon graduating University of Maryland, College Park. Having a formal and informal education in "making things" makes me an honest fan of the creative process that goes from lose idea to product. As a result I have a very diverse skill set that produces everything from 2-D painting, wood sculpture, illustration, to apparel.

Lightup
Whether he went, or who went with him, it is impossible to say. But I myself believe that his godmother took him on his traveling-cloak to the Beautiful Mountains. What he did there, or where he is now, who can tell? I cannot. But one thing I am quite sure of, that, wherever he is, he is perfectly happy. And so, when I think of him, am I.

HKS181
HKS181 was born during the height of the Civil War in Central America, thru trials and tribulations he found himself first in the D.C. Metropolitan Area and then later trickling down to the suburbs of Northern Virginia. An Artist from the early age of 5, art as he knew it would take a slight curve upon seeing the writings on the walls of Washington D.C. and the surrounding areas, he caught the bug and it's still circulating thru his body. Doing both local and national shows he keeps pushing himself both with a pen and paper as well as with a spraycan to create not only works of art but his own fingerprint in the world.

NAM
Nam Nguyen is a Washington D.C. native who grew up in a Vietnamese household that demanded he become a Lawyer or a Doctor.  He liked comics and big buildings but unfortunately his parents did not care or knew who Spider Man was.  He decided to draw and paint instead.  Inspired and guided by Jazirock  to pursue his vision and Nam's work is merely a reflection of everything Jazi has taught him.  Currently living in Mt. Pleasant where he paints, widdles , burns, sculpts, and sketches everything in pursuit of the "form following function" idea of design.
Nils Westergard
I took up stenciling at 13 after being introduced by a friend. I've been cutting since then on a regular basis. In high school I had several teachers that gave me some incredible resources where I worked painting sets, and teaching myself to screen print. In senior year I decided I would pursue art in college and got into VCUarts which is where I attend school now, in the Film program.  I'm inspired by all things street art and graffiti, but those are not my only interests. I also love film, nature, hip-hop, Carl Sagan, and history.