Tysons Luxury Lilies - April 29, 2016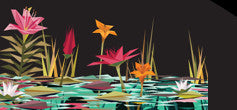 Surrealistic water lilies rendered in a futuristic blend of pop and cubism will soon grace a 20' x 100' wall at the Silver Line Greensboro Station in the heart of Tysons, Virginia.  The design is the work of local artist Naturel, who recently produced commercial art campaigns with Mountain Dew and Hpnotiq and boasts an impressive list of celebrity clients, including LeBron James, Rihanna and Spike Lee.

Naturel Statement:
This massive mural is the first major project that I have done in my hometown. I've been blessed enough to have worked on an array of artistic endeavors throughout the world, each time I tried my best to represent myself, my family, and my hometown. This project gave me the opportunity to bring all those experiences home and show all my folks from here the possibilities of turning your aspirations into your livelihood.

I've always been very inspired by Claude Monet's "Water Lily" Series, as have many other artists that I admire. There's something poetic about how this particular plant can grow from being submerged in water, to breach the water's surface and spread its leaves and petals for sustenance from the light above. The Washington D.C. area was built on a tidal plain, the foundation of this great city started from beneath the water line and grew to great heights. I want to leave people with the notion that no matter how deep the water you may be in, you can still grow above it.