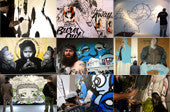 THE TAKEOVER - December 2-5, 2010
$0.00
Art Whino:THE TAKEOVER
3 Day exhibit during Art Basel Miami

In conjunction with the Miami Art Basel and surrounding Art Fairs, we will be presenting THE TAKEOVER. Using our "Elite Delta Force" of artistic leaders to create a unique 8,000 square foot outdoor art exhibition packed with an enormous series of installations/murals. The exhibition will be located in the heart of the Wynwood Arts District along with other accompanying art fairs. 20+ artists will paint large mural/installations around 8' high and 20' wide each. Each artist will also exhibit smaller artwork in their installation areas. There will be live painting events throughout the exhibition and a full bar and snack area with DC's Own BBQ Kings grilling it up.

Event Location:
Charcoal Studios Outdoor Space
2135 NW 1st Ave
Miami, Florida 33127

Friday Dec 3rd and Saturday Dec 4th
General Admission
Noon-8pm
Free Admission

Sunday Dec 5th
General Admission
Noon-5pm
Free Admission

Show Reception Saturday Dec 4th
8pm-Midnight
Live Painting by participating artists
Music by DJ Adrian Loving
Live Light Graffiti portraits by Vicki DaSilva
Free admission with RSVP prior to the event

RSVP to ArtBasel2010@artwhino.com

Art Whino is a DC based art gallery whose mission is to bring together the freshest and rawest talent from around the world. With over 1200 artists in the Art Whino arsenal, ranging from California to New York, Germany to Japan, and beyond, Art Whino has become an all encompassing force in the art world. Exhibitions cover the whole spectrum of new art forms ranging from exposing emerging stencil and wheat pasting artists to showcasing the most skilled leaders of many different genres.
Angry Woebots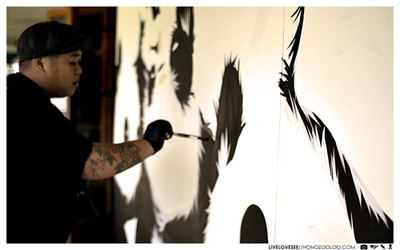 Aaron Martin was born on the island Oahu 1977, Hawaii. Most of his childhood was spent growing up and moving from Southern California to Nevada before finally landing back into Hawaii during his Junior year in high school. In 1999 a car accident changed everything; this life-threatening experience inspired him to leave the island once again, this time to Seattle, Washington. Inspired by the rain and being indoors, he started playing around with different art mediums again. He then left back to Hawaii with a new perspective, Aaron had his first show in 2002 and has not stopped. He has showed in galleries up and down California, the east coast, and even in shows that have traveled from the U.S. to Hong Kong. His focal medium is acrylic paintings on wood and canvas. Using minimal colors and detailed character design, these paintings are usually comprised of stressed out emotional pandas. The pandas tend to represent the story of struggle.
Brett Amory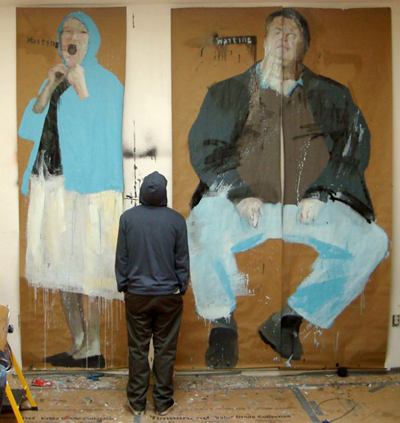 Brett Amory was born June 25, 1975 in Portsmouth, Virginia. When he was 21, Amory moved to San Francisco to study motion pictures at the Academy of Arts. Soon after enrolling in school, Amory took his first drawing class and was introduced to his passion for the arts. Around the time Amory turned 24 he tried his hand in painting. In 2002, Amory switched his major to fine art and started his first body of work called "Waiting" a series of paintings about the anticipation of the next moment. Amory gathers his source material by taking pictures on the street of people waiting. He gravitates towards visible quirks and, by his own admission, a lot of his subjects are older.

Amory graduated from the Academy of Arts in 2005 and has shown his work all over the country. In 2006 Brett along with five other artists published a book called "Convergence" and had book signings in New York, Los Angeles, and at the SFMOMA in San Francisco. Amory currently works as a graphic designer at an environmental company in San Francisco and continues to show his work in galleries across the country.
Charlie Owens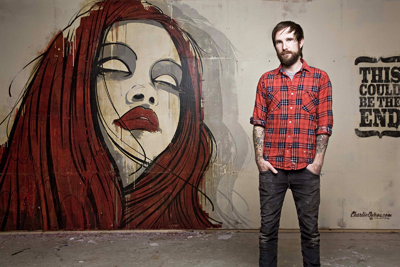 Charlie Owens is an Atlanta based artist influenced by today's modern pop and street art. His work encompasses a mixed media process that utilizes illustration, graphic design and fine art skills producing a bold iconic style, all his own. He achieves his look by way of screen printing, stenciling, wheat paste, and the use of a wide range of acrylics, inks and other materials. By combining his love of illustration and design, Charlie has made a name for himself with his stylized female forms and over-sized murals that showcase the depth and dimension of his talent.
Daryll Peirce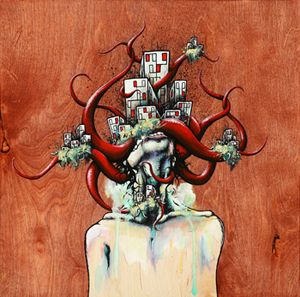 Focused on exploring the connectivity within humanity and its claims of control over social systems, habitat, nature, and future, Daryll Peirce's artwork pendulates between the satiric and esoteric, optimistic and pessimistic, scientific and spiritual, bold and poetic. Grotesquely exaggerated human forms, arterial-botanic city organisms, and flowering interconnected urban clusters currently inhabit his psyche and spew into his work. On a more intimate level, his influences instinctively stem from past and current environs, travel, exploration, skateboarding, surfing, dreaming, philosophy, and interacting with all forms of the human animal with a focused lens on the social outcast.
Ekundayo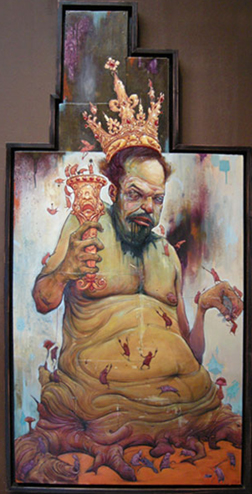 Ekundayo (Dayo) was born in Honolulu, Hi, in 1983 where he lived with his mother and father until the age of five when his mother and father could no longer get along. Ekundayo's father snuck him out of the state without his mother's knowledge, and for seven years Ekundayo and his father moved from place to place living a life on the run. Meanwhile in her desperate need to find her son, Ekundayo's mother helped start Hawaii's first clearing house for missing children. The life on the run ended in 1994 when his father moved to California with Ekundayo's sister because his father was dying from cancer. In early 1995, Ekundayo's father passed away from lung cancer; Ekundayo was eleven…

Ekundayo lived with his sister, brother in-law, four nieces and his sister's mother in a small three-bedroom and one-bath house in Pacoima, Ca. It was in this house at the age of 13 that Ekundayo discovered his love for art. After being involved in school fights, stealing and hanging with the wrong people, he was suspended from school. One day while in the garage, he found one of his uncle's black books. This uncle wrote for a graff crew in L.A. called C.H.B. This book completely changed Ekundayo's life. He became obsessed with drawing and copied every single page in that little book. Meanwhile, the Dept of Justice had located Ekundayo at his sister's home and returned him to the custody of his mother. Ekundayo went back to Hawaii to live with his mother. His drive to create didn't stop, and the encouragement from his family only fueled that ambition. Shortly after graduating high-school, Ekundayo moved back with his sister and brother in-law in much more spacious accommodations. He attended Pierce College in Winnetka, Ca, where he practiced his craft and worked on his portfolio until 2003 when he was accepted into Art Center College of Art and Design on a scholarship. Although the teachers he studied under and the friends he met while going to Art Center were priceless to his development, Ekundayo dropped out after completing his foundation courses in order to create his own path in the fine art world. He combines both subversive graffiti aesthetics in combination with art-historical erudition using acrylic, gouache, watercolor, ink and various carving techniques. Ekundayo's work expresses the struggle of life and how those struggles and burdens can either inspire us to change in a constructive way or weigh us down by our own inability to change.
James Walker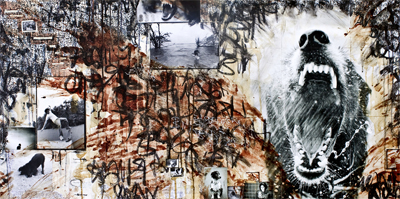 …..I never made a conscious decision to become an artist, it's something I've always done for as long as I can remember. I take pictures and draw and paint and collage debris and objects as intuitively as possible and I've never specialized in anything except making the best art that I can. Real artists don't have a choice about making art, it's simply a matter of satisfying an insatiable urgency to create…..
Jim and Tina Darling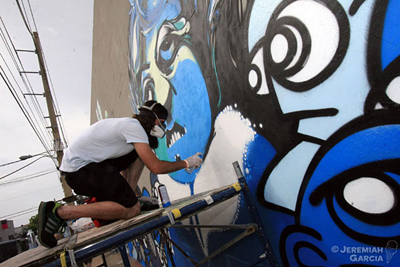 Jim Darling grew up in the sprawling suburbs of Dallas, Texas. Recklessness in his teenage years resulted in long spans of detention and grounding... Isolated hours proved beneficial in sprouting daydreams and his love for drawing and creating. Darling dove into fine art as a junior in high school and quickly saw the need to further his education. Leaving Texas he headed to Denver, where he received his BFA from Rocky Mountain College of Art & Design. Fresh out of school Jim co-founded an interactive design shop (Xylem Interactive). A few years later he would go out on his own in pursuit of his solo career as a fine artist & freelance creative. After living in Colorado for eight years Darling headed to Los Angeles to further his creative endeavors. Darling's gallery work ranges from intricate ink drawings to layered wood work with illustrative painted skins. Outside, Jim expands his tool set by including found objects and materials. His subject matter lives between play and real. Large issues are often looked at in simplistic terms and are then juxtaposed by intense detail.

Tina Darling's paintings are fluid and ethereal coupled with hand-cramping detail. Weaving together curvilinear line work, patterns & soft colors together into dreamy, detailed images, she gathers her inspiration from the natural world & the human condition. Quiet expressive energy and emotion are spoken with a soft hand, leaving the viewer to process through the filters of their own lives & experiences.
Joe Iurato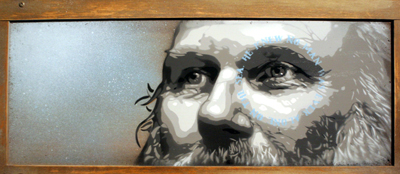 Once upon a time Joe Iurato worked as a magazine editor in NYC, where he'd escape into the streets of SoHo during lunch break to explore the art and occasionally contribute some of his own. At the time, stenciling was more of an obsession than a passion. Like every other moment in Joe's life when his desire to create art was challenged by a strong, "responsible" work ethic, the latter prevailed. But as fate would have it, the two worlds collided after Joe was laid off last year. While the economy fell to pieces and decent jobs were scarce to come by, Joe used every bit of his free time to let his art out and grow creatively. He now applies that same work ethic into developing his craft. While he's usually found in his garage painting on reclaimed cabinet doors and scrap pieces of wood, he also enjoys painting in the street, where his work is tagged with the name :01. He doesn't use it as a means to hide his identity – it serves as a reminder to him, and he hopes as a message to others, that it only takes one single second to decide you're going to move forward, regardless of circumstance or struggle, and never look back.
Jophen Stein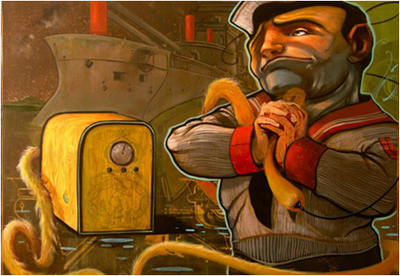 Jophen Stein is a graduate of the Laguna College of Art and Design. After establishing the Snootson family showcase in 2004 his distinctive style has gained national recognition over the past couple of years. Despite the minor set backs of being banned from Idaho and Iowa Jophen Stein continues the SFSC series from his studio in Pomona.
Josh Taylor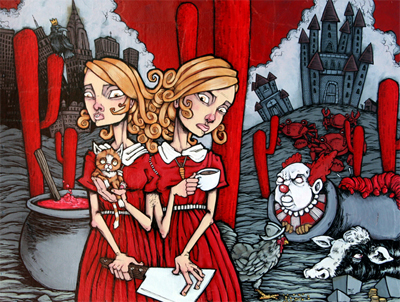 JOSHUA TAYLOR was born in New Jersey and continued his downward trajectory in hellish locales in up-state New York and North Carolina before honing his art skills at Pratt Institute. Upon earning his degree, he traversed the country, from California to Vermont, pursuing his art career. His fine art has appeared in galleries in LA, NY, Europe, and the Philippines, and has also been featured in various publications worldwide. Taylor's current body of work focuses on the history, myths and legends of his "Gastonian Multiverse", an odd ancient doppleganger reality where the laws of physics and the very fabric of time and space are falling apart at the seams. He currently resides in Baltimore where he paints, pays for parking, and works on a series of graphic novels and web comics entitled Bird & Girl.
Kelly Castillo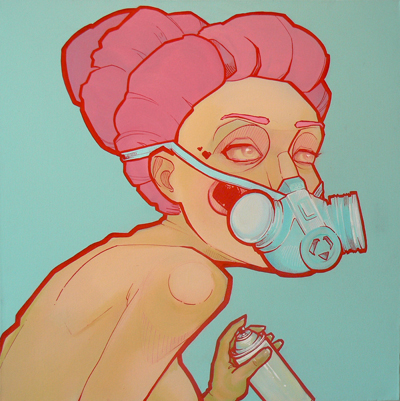 Kelly Castillo is an artist intertwined in the underground emerging artist scene in Southern California. Not only an urban contemporary artist, she is also a gallery owner, an arts Commissioner for the City or Anaheim and the owner of Dr. Sketchy's anti art school: Anaheim Chapter. Castillo made her professional debut in 2009 as an artist and has since been featured in galleries throughout Southern California and on the East Coast. Her involvement with Dr. Sketchy's Anti Art School is evident in her work. Mainly focusing on portraitures, she used bold lines to create an illustrative quality in her work using modern media techniques with like spray paint, marker and acrylic paint. Bold color and design juxtaposed with vintage subjects lends itself to a multidimensional audience in love with the old and inspired by the new.
Mary Spring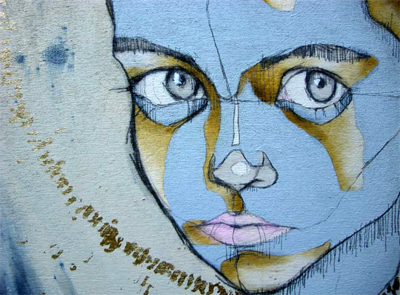 Mary Spring's figures are at once both self portraits of the present and projections of internal hope for the future. Each representation depicts the panoptic range of mental, emotional and physical conditions experienced in a mere snapshot of time, enabling the observer to merge silently into the psyche of the artist.

From ultimate pleasure to unbearable sadness, each expression communicates the profound casualties of insight. The integration of medium and mechanics with design and spirit, lead to the paradoxical enlightenment and anguish portrayed at the moment each stroke is applied.

Self-realization emerges from the artist as the feminine heart, the kinesthetic demands of performance and dedication, and the consequential strength are unveiled in each expression. Pain synthesized into passion. Time united with eternity.
Peap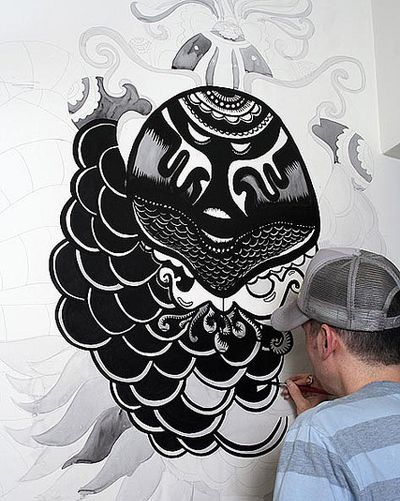 Peap, or Samapeap Tarr originally born and based artist from Auckland New Zealand now living and creating in Phnom Penh Cambodia is a person whose cultural background has influenced him to create his signature sinister yet tranquil works of art which has caught the attention of art lovers around the world and also gained respect from many of his art peers including legendary LA Graffiti Cholo style artist Chaz Bojorquez. Known primarily for his use of bold black ink and paints on a blank white medium including canvas and walls, his art exists in a world where lightness and darkness battle, yet coexist in the same breath to balance each other and contrast against each other. It represents the ups and downs of life, the yin and the yang, the ongoing war that ends up being waged on canvas or whatever medium his work lies on.


Peat Wollaeger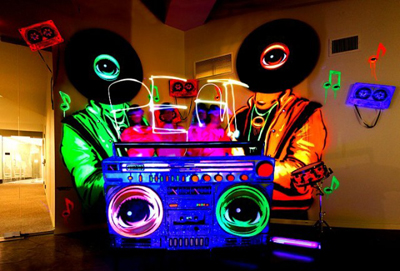 Peat Wollaeger (stenSOUL) Internationally known stencil artist infamous for his signature EYEZ , raw colorful characters
and stencil videos. (http://vimeo.com/peat/videos)

You may have seen Peat's work at "Electric Windows" in NY, "Paint Louis Wall" in the STL, "The Mad Artists Tea Party" in LDN, "Horrorwood" in LA, "Hotel des Arts" in SF or "Primary Flight" in the MIA! If NOT...possibly on a street near you.
Pixelpancho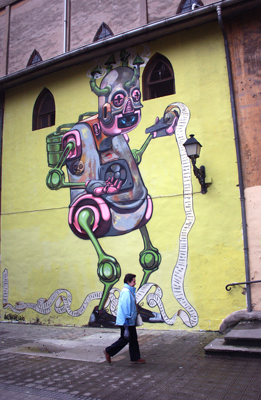 Pixelpancho was born in Turin in 1984. As a child found interest in color and form, aided by his grandfather, an occasional painter, got his first steps into the world of design. In 2003, inscribed at Albertina Academy of Fine Arts in Turin, after two years he transferred and until the end to the Academy of Fine Arts in Valencia. Led to the design, graphics, and above all the Graffiti and street art years before to academy began, experimenting with his designs on walls and any material recovered and bought up to use. For a few years in Turin with the painted tiles logo, and strongly attached to the walls. Influenced by many artists, Graffiti and exposures seen in his travels in Europe, like Paris, Amsterdam, Warsaw, Vienna and many others Pixelpancho evolve his style and technique to arrive at a real breaking the image and its remodeling "Robotic", in which have more concepts. Aided by drawing Pixelpancho can be found using different techniques and supports up to the 3D sculpture. During this period he also delights of the possibility of creating his characters equipped with a volume. He spent five years in Spain, working and studying Art, is influenced by charming light Spanish, began to paint his characters with new lights and contrasts. The work of Pixelpancho has just begun. Moved back to Turin in 2010 opened his first painting studio where he produces his works to present date.
Ruben Ubiera
Ruben Ubiera is a Dominican neo-figurative artist, known for his strong use of the line, who has been drawing and painting ever since he had use of reason. Ruben paints and draws in a style considered by many as Pop-surrealism, but he prefers to call it urban-pop, since he has lived most of his life in the urban, populated areas and most of his inspiration is derived from the interactivity  between man and his urban environment.
Scribe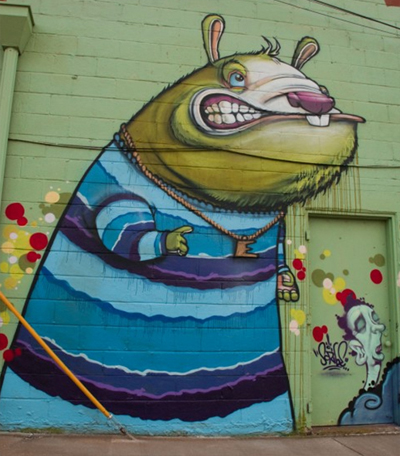 Donald Ross also known as "scribe" is 34 years old and currently lives in Kansas City, Missouri of the United States. The animated, public murals by Scribe are readily recognizable in Midtown Kansas City and throughout different part of the United States, Canada and down into Mexico where he has both painted murals and had gallery shows. Scribe incorporates a menagerie of animal characters developed over many years representing a particular, self-referential trait that he inserts in various scenarios. Scribe intersperses personal iconography, biblical and fairytale references, animation and metaphor in works intended as contemporary parables for public audiences, hence the use of his artist name and persona. Through accessible idiom and image, Scribe incorporates humor and play in the conveyance of serious messages regarding personal integrity, attainment of knowledge, and adventure.
Sue Works and HermLife!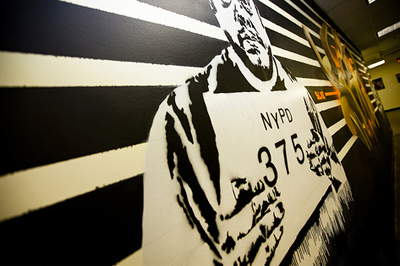 Like Batman and Robin, they speaks strictly in clipped, short, powerful expressions of wonderment written large in neon letters across a perpetually hazy backdrop of pop culture references and cheap beer.
They are a neo-absurdist, a post-soda-pop burp upon the scene who mixes and marries humor, intellectual hypochondria and classical thought.

Tim Conlon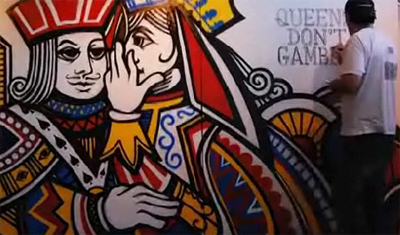 Tim Conlon is an artist known for large-scale murals, graffiti art, and works on canvas. Conlon's work has been featured in museums and galleries across the country, including the Smithsonian National Portrait Gallery and the Corcoran Gallery of Art. Conlon's work has appeared in feature films, television ads, art books and magazines, custom clothing designs, and on large street billboard advertising. Conlon is also an animator, illustrator, web designer, and video editor.