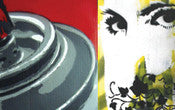 STENCIL - November 23, 2008
$0.00
STENCIL
A group show focusing on the art of Stencil
An exhibition celebrating stencil art featuring over 30 artists who work in this provocative medium. Art Whino will be bringing a traditionally secretive, outdoor based art form inside gallery walls. Come see the amazing installation by 15 artists from all around the world, and meet them and talk about their work at the Opening Reception. Learn about this creative trend that is present all over the world. Meet Russell Howze, author of Stencil Nation, and attend his presentation on the incredible art featured in his book. Get your copy of Stencil Nation signed at our book signing and panel discussion about the origins, popularity and integration of stencil art into the gallery world.
Friday November 14th from 6-Midnight
Opening reception at Art Whino Gallery.

The gallery walls will be transformed as a 15 artists come out from all over the world for a huge install collaboration. Thirty artists will be showcased. Each artist will showcase 20 pieces created on found objects that will be integrated into and inspire the overall installation, bringing the gallery back into the realm of street art. These found object works will retail for $20 - $40, keeping the art accessible and true to its roots.

Music by DJ Face

Sunday. November 23rd, from Noon – 6pm
At Art Whino gallery
Stencil Nation book signing by Russell Howze.
Presentation by Russell Howze on the Art of Stencil 2 - 3pm
Panel discussion from 3 – 4pm focused on the popularity and growth of stencil art and it's transition into fine art galleries.

This event is FREE and open to the public.

Show end date: Dec 6th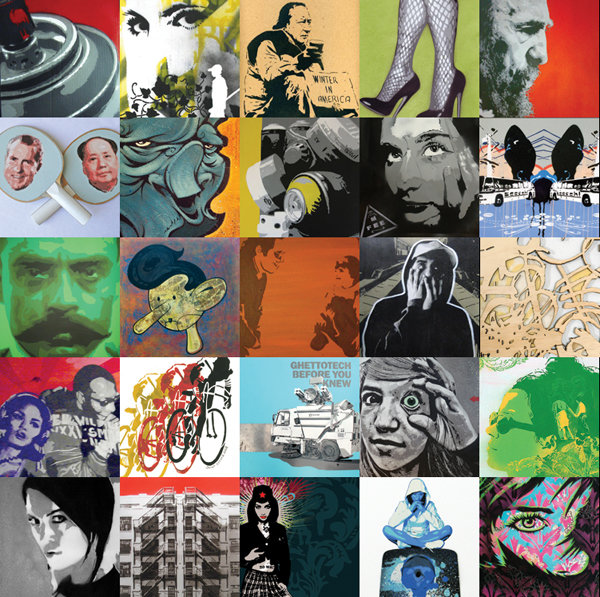 Stencil Artists
Alvaro Sanchez - Guatemala
BayTruthSeeker - California
Billy Mode - Baltimore
BLACKBOOKS - Miami
Chris Stain - New York
CUTTHROAT - Texas
Dark - Texas
Dave Lowell - Texas
E.L.K - Australia
Enos - Texas
farkfk - UK
Janet Bike Girl - Canada
Jazirock - Virginia
Jef Aerosol - France
Koleszar - Arizona
Kristal Blanco - Italy
LECKOmio - Germany
Logan Hicks - New York
Prvrt - New York
Mama Sass - Chicago
MEFEE - France
Memphisto Jones - Australia
PaperMonster - New Jersey
Peter Krsko - DC
Scotch - Texas
SOULE - Seattle
stncl.07- Texas
Russell Howze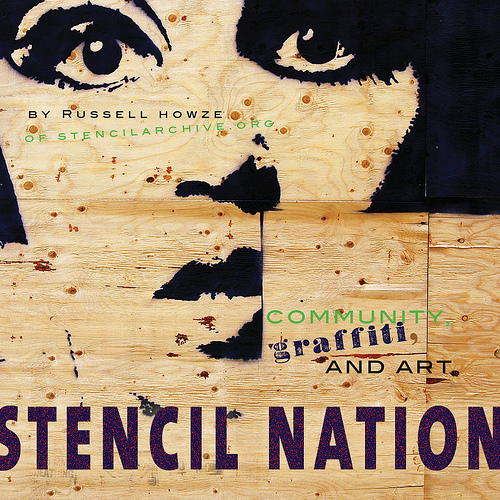 Stencil Nation: Graffiti, Community, and Art
A Manic D Press Book by Russell Howze


"Stencil Nation: Graffiti, Community, and Art" packs over 500 full-color photographs in a 192 page, 8 inch by 8 inch pound of paper and ink. The book presents work by more than 350 artists from 28 countries, including Iran, Australia, Japan, Canada, Spain, Lebanon, Israel, and the United States. Featured artists include: Banksy, Jef Aerosol, Logan Hicks, Adam5100, Arofish, M-City, SWOON, Hao, John Fekner, Peat Wollaeger, Klutch, and others.

Without a doubt, stencils are the fastest, easiest, and cheapest method for painting an image on a wall, a sidewalk, or almost any object anywhere. Stencil Nation focuses on the unexpected mix of this lively, accessible medium to reveal engaging aspects of an intentionally secretive international creative community. With dynamically illustrated perspectives from diverse niches of the art form, hundreds of photographs and numerous essays have been curated by StencilArchive.org's founder, Russell Howze. Stencil Nation builds upon previous published works to give the most extensive and up-to-date history of stencil art, as well as how-to tips from the artists who work within the art form.

Stencil Nation Goes on an East Coast Tour: November and December, 2008

Russell Howze will be on the road this winter, giving his slide presentation for "Stencil Nation." This one hour presentation will give a great overview of the art form, using examples from the book as well as other outside sources, materials, and interesting items. Russell will also have actual cut stencils and will allow time for questions about all things stencil.

About the author:
Russell Howze saw his first stencil in 1990, which was J. R. "Bob" Dobbs on an apartment wall in Clemson, SC. In 1995, Russell saw an amazing sight on the exterior wall of the Reichstag in Berlin: a huge stenciled Bertolt Brecht poem. He snapped a photo of that stencil, then found one in Budapest, Hungary. Then a few more stencils appeared in Basel, Switzerland. When he landed in San Francisco in 1997, he found dozens on the sidewalks of the Mission and Haight neighborhoods. He's never stopped photographing the sometimes temporary, always intriguing art form.

In 2002, Russell created the first version of Stencil Archive, thinking that he would have time to scan and upload his own collection before anyone discovered the site and submitted their own work. He was gladly mistaken, so Stencil Archive (www.stencilarchive.org) took off, outgrew its parent site HappyFeetTravels.org, and ended up becoming a site with over 10,000 uploaded photographs. At the time of its inception, Stencil Archive was the only international stencil site out there (for a few months). Now there are dozens of sites with tens of thousands of photographs. Russell continues to curate his site, posting stencils from around the world and featuring dozens of amazing artists.

In June 2008, Russell launched "Stencil Nation" with a successful stencil art exhibit, his third curated show, in San Francisco, and then went on a six-city book tour up the West Coast. He will also took his one-hour slide presentation to Melbourne, Australia for the 5th annual Stencil Festival in early August. He will tour the East Coast in November and December, bringing stencil goodness to the holiday masses.

When not photographing, making, painting, and uploading stencils, Russell fills his time by doing one or more of the following fun things: being a carny for the Sustainable Living Roadshow, riding his bike, writing for his blog www.HappyFeetTravels.org, cooking healthy food, creating vector art and putting it on stickers and buttons, producing events, puppeteering, listening to good music, traveling, and volunteering/protesting to make the world a better place.

He currently lives in San Francisco's Mission District, and is usually seen on his bike with his camera slung around his shoulder.

Spray and Ink for Installation provided by Sabotaz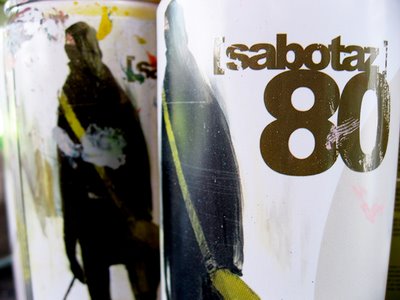 We are not doing anything different - we are just doing it better.

We don't want to sell you an image. We won't use marketing gimmicks to play with your head. You won't become a better artist . You won't make new friends. You won't be gangsta.

What you will have is a high quality paint that is capable of staying on walls and canvases with no drips. You will have more colors than you can imagine. You will have a paint that was developed through hundreds of hours of research with some of the best aerosol artists in the world. You will have a paint that is evolving each week.

Our paint-making team is just as committed to making premium paint as you are commited to making art. While you are in the yards, we are in the factory - formulating, manufacturing, and filling cans with paint.

Making the perfect paint is our obsession.

In the United States, Sabotaz is distributed by Logan Hicks of Workhorse Visuals.
Stencils for Installation provided by Blackbooks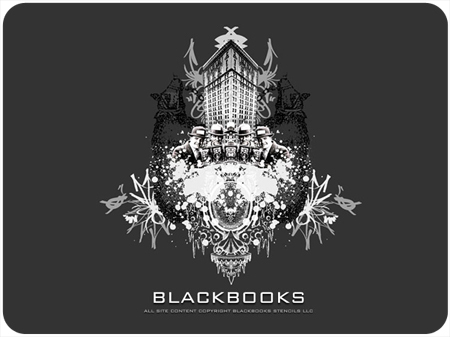 Designing a stencil with the correct bridging is a skill. Creating with the positive and negative, while maintaining the illusion that no bridge exists is the art." Blackbooks uses this theory to drive their work with every layout and design. Blackbooks has designed and fabricated for numerous corporations, private artists, and galleries and have showcased their work in various Art Fairs and Galleries over the past few years. No matter the client, product, private art piece, or installation, Blackbooks has branded their style into every custom job in more ways than one.