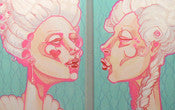 Renaissance Reduxxx - June 5, 2010
$0.00
Renaissance Reduxx
The Solo Show of Kelly Castillo
The premier of her 2010 series, Renaissance Reduxx, is a feminist critique of the modern day Renaissance women submitting to and breaking out of societal confines. Renaissance Reduxx follows the pursuit of women out of the banality of the traditional roles that subjugate women, portraying them on the verge of their journey in finding more exotic pursuits by way of eastern religions and empowered sexuality. The series will premier on the East Coast at Art Whino in June and then debut on the West Coast in print in art magazine Guardians or Bravery (GOB) with a cooresponding art exhibition hosted at Rothick art haus in July.
Saturday, June 5th, from 6pm – Midnight

Location: Art Whino Gallery
173 Waterfront St.
National Harbor, MD 20745

Show end date: July 5th

There will also be a night of drawing as we have a live installation with a model in Full Renaissance Regalia! Join in some drawing contests as well to win prizes! Bring your own sketch materials but we will have some available as well.

The event is FREE and open to the public.
ARTIST BIO:
Kelly Castillo is an artist intertwined in the underground emerging artist scene in Southern California. Not only an urban contemporary artist, she is also a gallery owner, an arts Commissioner for the City or Anaheim and the owner of Dr. Sketchy's anti art school: Anaheim Chapter. Castillo made her professional debut in 2009 as an artist and has since been featured in galleries throughout Southern California and on the East Coast. Her involvement with Dr. Sketchy's Anti Art School is evident in her work. Mainly focusing on portraitures, she used bold lines to create an illustrative quality in her work using modern media techniques with like spray paint, marker and acrylic paint. Bold color and design juxtaposed with vintage subjects lends itself to a multidimensional audience in love with the old and inspired by the new.