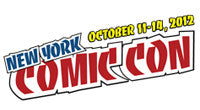 NY Comic Con 2011 - October 13-16, 2011
$0.00

Art Whino will be exhibiting at NY Comic Con showcasing 9 artists.  Each artist will be exhibiting original artwork along with limited edition prints.  Also each artist will be doing signings at various times so please check the upcoming schedule for exact times.  Each artists will also be painting large scale panels during the event..


Artist on Exhibit:

Angry Woebots
Jim Mahfood
J*RYU
Kano 
Lamour Supreme
Lou Pimentel
Pixel Pancho
Marka 27
Skinner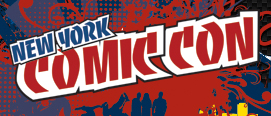 New York Comic Con is the East Coast's biggest and most exciting popular culture convention. Our show floor plays host to the latest and greatest in comics, graphic novels, anime, manga, video games, toys, movies, and television. Our panels and autograph sessions give fans a chance to interact with their favorite creators. Our screening rooms feature sneak peeks at films and television shows months before they hit either big or small screens. And with dedicated professional hours, New York Comic Con is a market place, bringing together the major players in the entertainment industry. New York Comic Con is the second largest pop culture convention in America and the only one that takes place in the comic book, publishing, media, and licensing capital of the world -- Gotham City.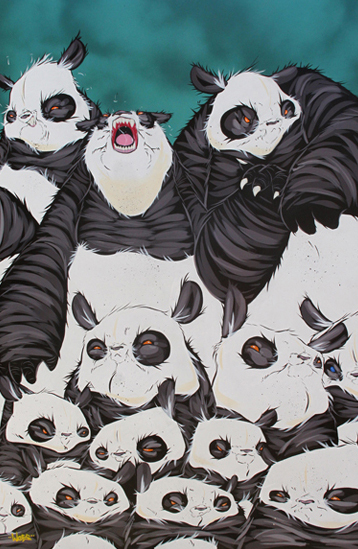 Aaron Martin was born on the island Oahu 1977, Hawaii. Most of his childhood was spent growing up and moving from Southern California to Nevada before finally landing back into Hawaii during his Junior year in high school. In 1999 a car accident changed everything; this life-threatening experience inspired him to leave the island once again, this time to Seattle, Washington. Inspired by the rain and being indoors, he started playing around with different art mediums again. He then left back to Hawaii with a new perspective, Aaron had his first show in 2002 and has not stopped. He has showed in galleries up and down California, the east coast, and even in shows that have traveled from the U.S. to Hong Kong. His focal medium is acrylic paintings on wood and canvas. Using minimal colors and detailed character design, these paintings are usually comprised of stressed out emotional pandas. The pandas tend to represent the story of struggle.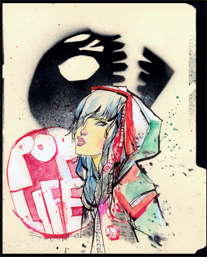 Jim Mahfood aka Food One is a freelance artist working professionally in the fields of illustration, advertising, comic books, murals, fine art, animation, live art in nightclubs, and custom body-painting. He has worked for every major comic book company and his illustrations have appeared in such publications as Playboy, Spin, Spectrum Illustration Annual, Star Wars Gamer, URB, the Hollywood Reporter, BPM, the Phoenix New Times, Mad Magazine, Heavy Metal, and more. Highlights of his career include illustrating director Kevin Smith's "Clerks" comics, handling the art chores on the entire ad campaign for Colt 45 malt liquor in 2007-08, painting the murals on Comedy Central's "Sarah Silverman Show", illustrating the "Kickpuncher" comic book that was included in the Season 1 DVD of NBC's hit show, "Community", illustrating and art directing reggae legend Ziggy Marley's "MarijuanaMan" project, and providing custom car art for Nissan's new "Juke" Artist Series. His current project is illustrating the new Tank Girl graphic novel, due out in 2012.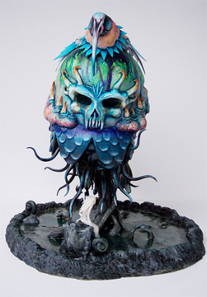 J*RYU, AKA the Purdy Supremacy, is an east coast-based designer/sculptor/artist focused primarily on exploring the themes of life and death and more intriguingly, what lies beyond. Primarily recognized for his signature Forest of Sorrows series, with its emotive, eerie and ghostly themes, J*RYU has garnered an avid following of fans who eagerly look forward to seeing each subsequent new piece and how the accompanying narratives add to the ongoing story.  In his career, J*RYU has worked on projects for companies and clients such as Marvel Ent., Sony Ericsson, Wonderbra, AT&T, NCAA Final Four, Columbia Pictures, TOPPS, Mia Hamm, Michael Crichton, IBM, Slim Jim and more and has shown in Los Angeles, San Francisco, San Diego, Sacramento, New York, Nebraska, Washington DC and Miami. He is a proud member of the world famous Army of Snipers.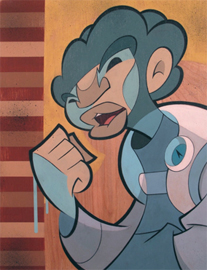 Born and raised on the streets of New York City, kaNO now makes a living as an illustrator, designer and animation artist.  From the silver screen to billboards and even on to toy shelves across the world. kaNO is a jack of all trades.With up to 10 years of experience as a commercial artist, he now focuses on creating urban content for his company kaNO kid, LLC. His clients include: ASPCA, Nike, Jordan, Upper Deck, Disney and Hasbro to name a few.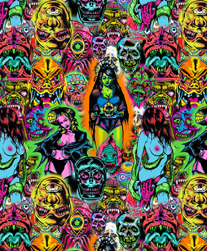 Lamour Supreme is currently working as a freelance artist and designer choosing various types of mediums ranging from vinyl toys to large moving 3d objects to convey his message. He also works as an architectural designer . His current base of operations is the MiSHKA ware house in Brooklyn, NY. Lamour Supreme's list of clientele includes Nike, Mishka, Super 7, Major Lazer and Scion.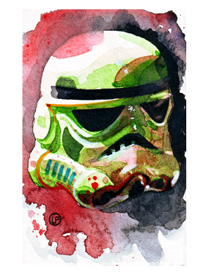 Lou Pimentel is a multidisciplinary artist based out of New York City. Born in Santo Domingo, the heart of the Dominican Republic, he and his family made the move to Florida when he was four years old and subsequently settled in Brooklyn five years later. Having started drawing at age four with the help of his father, he eventually found inspiration in his teenage years from the pages of comic books and the vibrant street art scene of his adopted city. However, not satisfied with relying soley on his self-honed skills, Pimentel applied and was accepted to the prestigious School of Visual Arts in NYC, where he earned his BA in Illustration. Upon graduation and now armed with the techniques of the old masters but still retaining the indelible influence of street and pop-art, his work is a visual outpouring, reflective of the inspirations that guide his life - his daughter Maddie, cartoons, graffiti and the art that surrounds us in our every day lives. No matter what the medium, whether it be oils, acrylics, spray paint, water colors and sculpting, Lou takes pleasure in utilizing whatever methods necessary in order to convey his artistic directions.  Recent projects include artist sketch cards based on Lucasfilm's Star Wars series via Topps Trading Cards and collectible toy designs for myplasticheart, a NY-city designer toy institution, shop and gallery.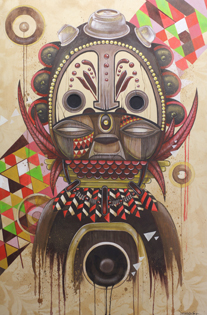 Victor "Marka 27" Quinonez is a prolific artist who is never confined to one medium. His artwork has been seen in high profile galleries throughout the east and west coast and has shown alongside artist such as Futura, and Ron English. His street murals/graffiti have been published in several lifestyle magazines and books, most recent "Iam Plastic too" "Graffiti Planet", "Burning New York" and "Graffiti L.A". Marka27 made his mark with his original "Audio Canvas" paintings with built in speakers, also his large speaker installations with legendary hiphop icons painted on the speaker boxes. The latest manifestations from the restless mind of Marka27 are the minigods a line of designer vinyl speakers based on ancient indigenous cultures. Marka27 constantly pushes the boundaries of art and design and has worked with brands that stride to do the same such as Kidrobot, Pioneer, Arbor Collective and Levise to name a few.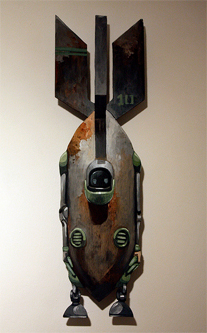 Pixel Pancho was born in Turin Italy in 1984. As a child he found interest in color and form, thanks to his grandfather, an occasional painter. Pixel always has had a passion for art and design and knew that this would be part of his life since the beginning.  In 2003, he inscribed at Albertina Academy of Fine Arts School in Turin, after two years he transferred to the Academy of Fine Arts in Valencia where he is to obtain his degree this year.  His years in the School of Fine Arts has led him to the world of design, graphics, and above all the graffiti and street-art scene. Pixel's studies and his determination for experimenting with different mediums opposed to the classic formula of the academy made him stand out from the others, as he followed his passion for using spray cans and marker and working on out door surfaces opposed to the classic paper and canvas.  Traveling between his hometown of Torino and Valencia Pixel Pancho took every occasion to be noticed on the streets, using different mediums such as tiles, wall painting, sticker/poster art, etc.  Like every artist Pixel Pancho has been influenced by many different artists of the past and the present, such as the historic painter Joaquin Sorolla, the surrealist Salvador Dali, the political painter group El Equipo Cronica to the more modern Ron English, San and Takashi Murakami.  Traveling to countries such as Paris, Amsterdam, Warsaw, Vienna and many others for graffiti jams and expositions in galleries has made it possible for Pixel Pancho's style to evolve from the simple Robot character to the more complex compositions that we can see in his work today.  Pixel Pancho moved back to Turin in 2010 and has opened his first painting studio where he produces his art works. There is a lot to be expected from this young and motivated artist, the work of Pixel Pancho has just begun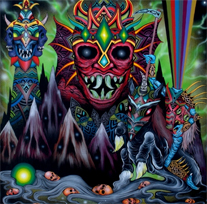 Skinner is a self-taught artist from Sacramento, California who has meticulously crafted a balance of extraordinary mural work, mighty powerful wall to wall installations and a prolific commercial career. Influenced by 80's pop culture, human struggle, myths and violence dungeons and dragons and the heavy metal gods, Skinner's mind is one full of mayhem fueled by a calculated chaos. His work has been shown all over the Universe at places like the museum of graphic design in Breta, Netherlands, Japan, Illustrative festival in Berlin, Germany, France and the states from LA to New York and in between…recently participating in the epic suggestivism show at the Grand Central Arts Center. His most recent solo exhibit entitled The Fear You May Know reigned at the White Walls Gallery in San Francisco in the summer of 2010. Skinner's work has made known in various publications including Blisss, Juxtapoz, Hi Fructose and Beautiful/Decay.