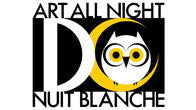 Nuit Blanche - September 24, 2011
$0.00
Art Whino and Urban Artistry present:
The Nuit Blanche "INTERNATIONAL BLOCK PARTY" on I ST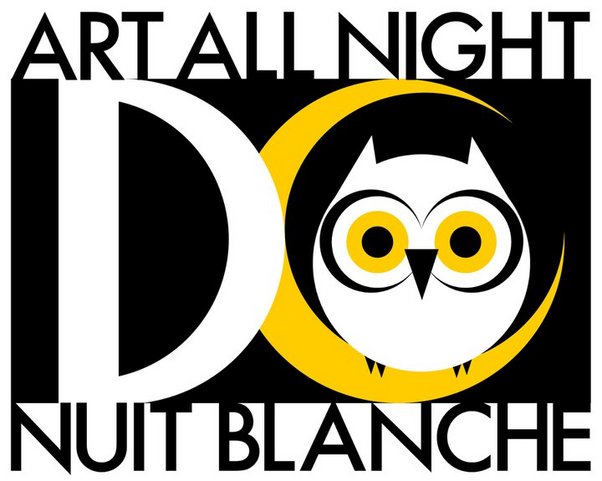 Art Whino will be showcasing 8 artists.  Each artist will be painting large scale installations live ranging from 10 to 20 Feet in length.  Along with the installation each artists will be exhibiting original artwork.


Art Whino Participating Artists :
Blaze One
Eric B.  AKA Viceversa
Gregg Deal
HKS181
Jazirock
Lightup
Pore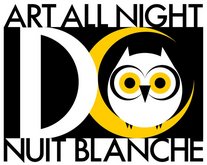 Art All Night: Nuit Blanche DC is debuting this year in the Chinatown/Gallery Place and Shaw neighborhoods. The festival is being organized by a passionate group of volunteers, all driven by the idea of a one night arts festival that is inclusive and free, highlights both downtown and a local neighborhood, and features collaborative cultural programming in a variety of art forms.
Art All Night DC was founded by Ariana Austin and is being curated by a diverse list of cultural partners. The festival is presented by Shaw Main Streets, Inc., the commercial revitalization and historic preservation organization serving the Shaw neighborhood, immediately north of Chinatown/Gallery Place.
For more information visit :
http://www.artallnightdc.com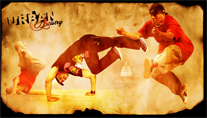 Urban Artistry consists of dancers, musicians, and historians who are also, economists, audio/visual technicians, anthropologists, logisticians, writers, graphic designers, communications experts, IT and entertainment specialists- who have all matured through their education in urban arts culture. We are guided by the origins of the drum, the energy of the underground dance movement and the art that documents our experiences.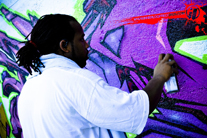 I grew up in Washington DC. As a young child I rode The train back home from school. Seeing the art that was painted on the side of the metro tracks always was the best part of my day. The art spoke to me. I tried to imitate that art, and attracted the attention of some of the experts. I was even complemented by several police officers. While I was in high school, I worked for a community group asked to design a mural for a metro station. It was exciting to see that everyone loved the work, and I was even featured on the news. Since then it has been exciting to do art shows, signs, graphic design, and outdoor murals. In the future I plan to paint murals outside of the United States.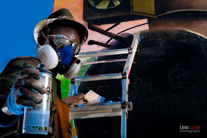 Originally from Monrovia, Liberia West Africa, Eric B has been residing in the United States with his family as a political refugee since 1990. He completed high school at Quince Orchard High where he was first introduced to his first love, traditional film photography. After graduating from high school, he briefly pursued photography at Montgomery College.
During the 90's Hip Hop culture Blooming in  the DMV  which was underscored with the "Aerosol Street Art Scene".  Eric was drawn in and immersed into the scene and committed to a life pursuit of this culture. Later his interest expanded as he explored many other forms of creative self expressions in traditional painting (acrylic and oils), collage, sculpture, fashion design, book making, interior design and remodeling.
Seeing himself as a life long student to the many disciplines of creative expression, the arts has been the focal interest which has lead him to a path of spiritual awareness and self enlightenment. Witnessing the destructive side of mankind and being a child survivor of war, Eric B uses art as a medium for hope, change and love.
"Art is the thread unique to the human animal that binds and heals mankind of it's diseases of hate and the illusion of alienation that we are born into." Eric B.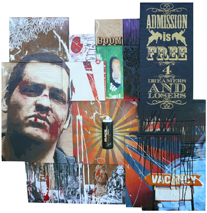 Gregg Deal, 36 years old, and a 12 year resident of the Washington DC Metro area is emerging in the area as a prolific, technical and imaginative artist. Time as a young man immersed in graffiti and street art throughout the 90's, eventually Gregg was trained in traditional fine arts, specifically oil and drawing as well as graphic design. With A few minor shows on the East Coast just out of college, and a mentorship with performance artist James Luna and a trip to the Venice Biennale he is reemerging as a force marrying graffiti/street art, his fine art training, and professional experience in graphic design. Working primarily with acrylic based spray paint, Gregg works in various subjects such as portraiture, animals, typographical letters, and original characters using commentary that are both narrative and social. Heavily informed by the world he lives in, his work takes on a roll of irony, humor, drama and social commentary.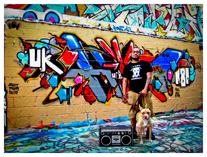 HKS181 was born during the height of the Civil War in Central America, thru trials and tribulations he found himself first in the D.C. Metropolitan Area and then later trickling down to the suburbs of Northern Virginia. An Artist from the early age of 5, art as he knew it would take a slight curve upon seeing the writings on the walls of Washington D.C. and the surrounding areas, he caught the bug and it's still circulating thru is body. Doing both local and national shows he keeps pushing himself both with a pen and paper as well as with a spraycan to create not only works of art but his own fingerprint in the world.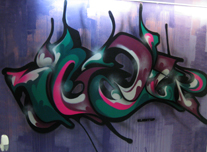 Whither he went, or who went with him, it is impossible to say. But I myself believe that his godmother took him on his traveling-cloak to the Beautiful Mountains. What he did there, or where he is now, who can tell? I cannot. But one thing I am quite sure of, that, wherever he is, he is perfectly happy. And so, when I think of him, am I.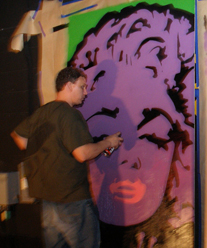 Kevin Irvin (AKA) Jazi Rock was born in 1972 in the impoverished neighborhoods of west Baltimore. Being raised by only his mother, Kevin turned to the streets to be his father, his acceptance, and his comfort zone. As a boy Kevin searched for an identity and struggled to express his souls frustrations with the world around him, like many others in his neighborhood. While others turned to drugs and crime, Kevin discovered the the book that forever changed his life. At the ripe age of 12 Kevin was infected by the graffiti bug when he saw a copy of Martha Coopers infamous book, "Subway Art" circulate around his neighborhood. With all the money he had been saving he bought ONLY the front cover to this book for 15 dollars and began to sketch away and adopted the nome de guerre, "JAZI ROCK". At 12 Jazi was able to produce such intricate sketches and displayed a precociousness in graffiti that an older writer by the name of "KORUPT" took Jazi under his wing. Korupt taught Jazi everything he knew from hand styles to outlines to fills to caps to proportion. Jazi started to rise in the ranks and his workd began to show up all over west baltimore from burners on trains, bombs throughout the city and tags. Before puberty hit, Jazi was already doing large scale graffiti pieces with complex color sequencing while standing on two milk crates because he wasn't tall enough to reach the top of his work. His work was not only larger than life but literally, larger than he was.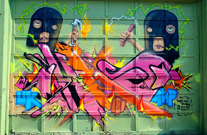 Pore, Born in Silver spring, MD, raised in Montgomery county, and now live in Fairfax county.Been an artist since I popped out of my mom. I find beauty in all art so I have not ever been judgmental of styles or other artists. I enjoy working with any artist who has a good head on their shoulders and loves to create. I don't no where art will take me in life and i don't really care as long as i create i am whole.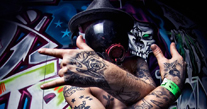 Scotty's interest in painting and for art in general started in his youth, but it was at age 12 when he and his family moved to Heidelberg, Germany and settled into the nearest high-rise estate Emmertsgrund that he began to tag, MC and bboy. From there he traveled to Jams such as Freestyle Session and International Battle of the Year competing with his crew The Southside Rockers in some of the most well respected breakdancing competitions in the world. As a dancer he has performed and toured with artists from the Black Eyed Peas to KRS ONE.  As a visual artist Scotty76 pieces can be found from Heidelberg to Hong Kong with his crew "The Phunk Masters," which were known far beyond national borders for their style. His artwork adorns retail shops, clothing lines, graffiti books and album covers from Tattowierungen as the zBvon Rapqueen Cora E to Massive Attack. One of his greatest works in 2009 was an 8 x 3 m large mural that he painted at the Playboy mansion for Hugh Heffner.  
He is also well known for designing urban wear dating back to 1995 when he painted his first T-shirt under the motto "The World is Yours." Since then he has designed for labels such as Aero Soul, El Presidente, Artistik World, the ADIDAS "End to End" collection and the U.S. designer label Fj560. He recently launched his highly anticiapted line Artyllerie, which hit stores throughout Europe in March 2011.  
Check out more from Scotty76, the bboy, the writer, the MC at SCOTTYS WORLD the VD documentary about his life as an artist or visit his website at www.scotty76.de