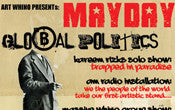 MAYDAY : Global Politics - May 1, 2009
$0.00
MAYDAY:Global Politics

A 3 Part Show:
Kareem Rizk Solo show - Trapped in Paradise
AM Radio - Installation and Mural
Art Whino Artists - Group show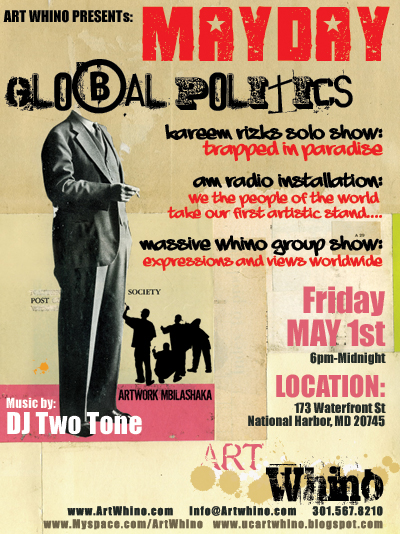 This highly provocative, three part exhibition will feature several different perspectives on the topic of global politics by highlighting the art of Australian artist Kareem Rizk, new works by the artists of AM Radio, and individual responses to the theme from member artists of the Art Whino collaboration.
FOR IMMEDIATE RELEASE:

Friday, May 1st, from 6pm – Midnight

Location:
173 Waterfront St.
National Harbor, MD 20745

Show end date: June 1st

Music by DJ Two Tone

The event is FREE and open to the public.

Trapped in Paradise: Artwork by Kareem Rizk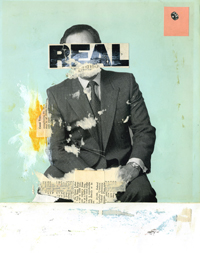 Art Whino brings you its the most relevant show to date, featuring works from Australian artist Kareem Rizk, that deal with issues of money, consumerism and the result a long term capitalist system. Kareem Rizk, hailing from Melbourne, uses iconographic imagery from aged or nostalgic sources, illustrating the idea that media influence, the banking system and consumerism have been enforcing a capitalist mind set and almost necessitating this concept of a false paradise for decades.

Join us at Art Whino for the opening of this powerful exhibition, in the midst of a time when many Americans are really

Trapped In Paradise

There are those of us who are aware of living in a capitalist world and those who are not. But so many people from both categories seem to be trapped in paradise.

With some of the crazy manufactured problems going on in the world today many people are either completely unaware of them or they blatantly deny them. Rather than trying to understand the problems and their true intention, many people seek a form of escape from this current reality. As a result, so many people from both categories have allowed themselves to be absorbed into what capitalism tells them is good and desired.

The spread of capitalism has absorbed people further into the commercial, transparent world that we live in - a make believe world - a false paradise. It has become a strategy to distract or preoccupy the public's minds. We are being tempted and taunted everyday with hollow gimmicks such as, 'buy now, pay later', 'buy one get, one free' or 'buy now with no interest for 12 months'. The banking system has an identical strategy in creating debt that is often impossible be paid back. These systems promote a false sense of security and an idealistic world, which is very transparent. You can have whatever you want now and worry about the debt later.

Many people are literally buying into this lie by crowding their lives with consumerism and entertainment as a form of preoccupation. We are being told what we should desire - what is appealing . We are being told what we should think is good for us. Unfortunately, people are believing it.

Many of us are living in a false paradise - almost trapped in an invisible prison. But awareness and research of certain problems and having the capacity to spread further awareness about them is one key element in reaching a positive solution - the creation of our own true paradise.

AM Radio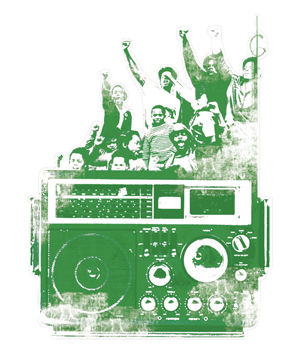 AM Radio is a collective of visual artists, whose mission is to infuse the raw elements of sound and texture to inspire life. The creative process incorporates the work of artists and DJs to paint large compositions before live audiences. With each painting taking approximately four hours to complete, the technique is a challenge of graphic resourcefulness. It compresses the creative experience into spontaneous reactions of time, space and energy - a result that captures the mood, sound and electricity of the environment.

Global PolitiK
Artwork Mbilashaka (AM Radio) removes itself from the reactionary reach of elections past. They hold historical importance but do not yield relief for a people beaten and burdened today. AM Radio's view is decidedly global in this moment. Understanding that the social impact of our art influences the world. In this time we must attempt to be prolific in our message, for we are the vanguard for those who have heard hope ring in their ears but continue to taste the bitter reality of an impoverished and muted political voice. Global PolitiK is our voice for one and all. Mbilashaka.

Group Show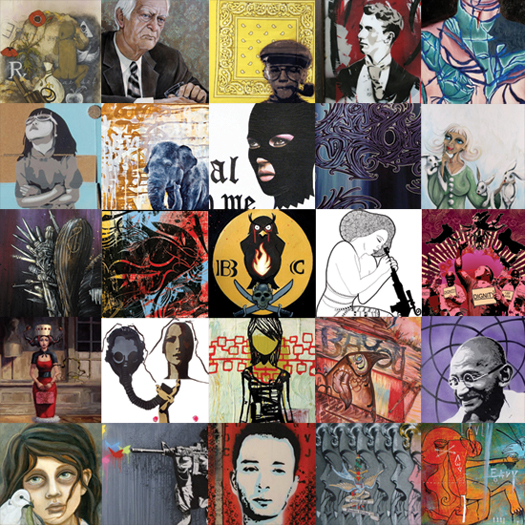 Aaron Kraten
Adam Neubauer
Anthony Jones
BayTruthSeeker
Bonnie Durham
Brent Houzenga
Bryan Schnelle
Casey Weldon
Daniel Fleres
Dave Lowell
Downer
dust
Ed Gross
ELSTABO
Francesco D'Isa
Imani
James Walker
Jessica Gamble
Joshua Krause
Kristal Blanco
Matthew Somma
Max Jones
Max Kauffman
Mefee
Michael Crockett
Nils Westergard
Nishi
PaperMonster
Paulo Arraiano
SMAC
SOULE
Spencer Reynolds
Terri Woodward
TMNK