Market SW - May 29, 2015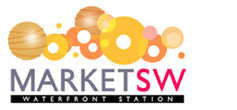 Art Whino Gallery will host a special Whino section with Live Painting and beer garden with a beverage program from Gina, a Cigar Bar lounge, art merchandise from the Art Whino roster of artists and muralists.  Come see Maz Paz and Junction XXI paint two large shipping containers live at the event!

Blind Whino Arts Club and Event Space, will also have a special area where they will continue to promote the arts by having art stations where they welcome to the public to let out their inner creativity.  Materials will be supplied and panel can be taken home by patrons.  Painting stations are free.