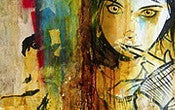 Life Essentials - September 24, 2009
$0.00
Life Essentials
Art Show x Fundraiser x Concert



Eighteen Street's Lounge newest band

Ancient Astronauts

Are here from Germany and will be performing for us!

Opening set by Thievery Corporation's own, DJ Stone


Catch More of the ESL MUSIC Label

in our Life Essentials Touring Show
during Art Basel in South Beach
Dec 4th!!!!!!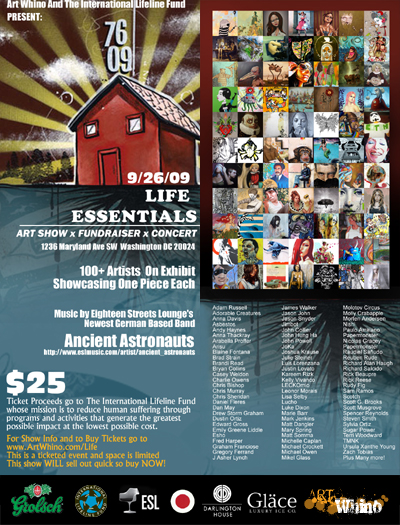 Art Whino and The International Lifeline Fund ("ILF") present Life Essentials, a four-city tour that brings together the best Visual and Musical Artists in support of ILF's ground-breaking humanitarian and environmental projects in Sub-Saharan Africa.

The exhibit will feature the works of over 100 artists from across the country and around the globe. The tour will kick off in Washington, D.C. with a two-night event on Thursday and Saturday, September 24 and 26. Following the D.C. launch, the show will hit the road with stops at Art Basel in South Beach on December 5-6, New York City in March, and San Francisco in June.

Thursday, September 24, 2009, will be an invitation-only event featuring live musical performances, a presentation by ILF, and an exclusive sneak preview of the artwork in advance of the official opening of the "Life Essentials" show on Saturday. Guests will be given the opportunity to purchase the artwork and otherwise to support ILF's vital mission through participation in a silent auction and individual donations. Many celebrities, politicians, ambassadors, and other DC power players are expected to attend. Savory hor'dourves and sweet desserts will be served along with libations.

Saturday, September 26, 2009, will be the official "Life Essentials" art show opening kicking off the four city tour at the Portals Theater in Washington, DC, Art Whino opens this incredible art show and reception party featuring a night of lush entertainment by Ancient Astronauts, ESL music's newest signed talent from Germany, who will headline the evening with a special performance, setting the mood for this spectacular evening.

Adam Russell, Adorable Creatures, Anna Davis, Asbestos , Andy Haynes, Anna Thackray, Arabella Proffer, Arisu, Blaine Fontana , Brad Strain , Brandi Read , Bryan Collins , Casey Weldon , Charlie Owens, Chris Bishop, Chris Murray, Chris Sheridan, Daniel Fleres , Dan May, Drew Storm Graham, Dustin Ortiz , Edward Gross, Emily Greene Liddle , Esho, Fred Harper, Graham Franciose , Gregory Ferrand , J Asher Lynch, Jason Snyder , Jimbot



John Collier, John Hung Ha, John Powell, JoKa, Joshua Krause, Julie Steiner, Luis Lorenzana, Justin Lovato, Kareem Rizk, Kelly Vivanco, LECKOmio, Leonor Morais, Lisa Selby, Lucho, Luke Dixon, Marie Barr, Mark Jenkins, Matt Dangler, Mary Spring, Matt Somma, Michelle Caplan, Michael Crockett, Michael Owen, Mikel Glass


Molotov Circus, Molly Crabapple, Morten Andersen, Nishi, Paulo Arraiano, Papermonster, Nicolas Gracey, Papermonster, Raudiel Sañudo, Reuben Rude, Richard Alan Haugh, Richard Salcido, Rick Beaupre, Rick Reese, Rudy Fig, Sam Ramos, Scotch, Scott G. Brooks, Scott Musgrove, Spencer Reynolds, Steven Smith, Sylvia Ortiz, Sugar Power, Terri Woodward, TMNK, Ursula Xanthe Young, Zach Tobias, Plus Many more!

Event Location for both nights:
The Portals Theater
1236 Maryland Ave
Washington, DC 20024

16,000sqft Art Exhibit


Invite Only Preview
Thursday, September 24th, from 6pm – 12pm

Dress to Impress Attire

Preview of Exhibit featuring work by 100 Artists

Photography exhibit by Deborah Terry

Live Musical Performance by Abidon Koya

Performance by African Heritage Dancers & Drummers

Complementary Beverages and Food


For more information or to attend email:shane@artwhino.com


MAIN EVENT
Saturday, September 26th, from 6pm – 12pm

Exhibit featuring work by 100 Artists

Photography exhibit by Deborah Terry

Music by Ancient Astronauts

Life Essentials Art Exhibit

Art Whino is a DC based art gallery whose mission is to bring together the freshest and rawest talent from around the world. With over 400 artists in the Art Whino arsenal, ranging from California to New York, Germany to Japan and beyond, Art Whino has become an all encompassing force in the art world. Exhibitions cover the whole spectrum of new art forms ranging from exposing emerging stencil and wheat pasting artists to showcasing the most skilled leaders of many different genres. For the life essentials Exhibit 100+ artists have been invited to participate exhibiting one piece each. 
ILF is a new, cutting edge humanitarian organization based in Washington, D.C., whose mission is to reduce human suffering and relieve environmental stress through self-sustaining interventions that generate the greatest possible impact at the lowest possible cost. In the space of just 3 years, ILF has become one of the go to organizations for promotion of sustainable fuel technologies in Sub-Saharan Africa, providing some 50,000 fuel-efficient clay stoves to displaced persons in Darfur, Somali refugees in Kenya and impoverished villagers in Uganda. At a cost of as little as $2 each, these stoves have profoundly improved the lives of scores of thousands and slowed the pace of deforestation by greatly reducing the amount of wood needed for cooking. Likewise, for about $3 per person, ILF is providing clean drinking water to some 100,000 Ugandan villagers who had previously been drinking from stagnant and contaminated pools.
Photography exhibit by Deborah Terry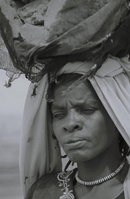 Lifeline's creative director, Ms. Terry is a professional photographer based in New York City, where she spent more than a decade in the fashion and music industry, shooting many top models and artists in hip hop and R&B. For the past five years, she has been using her artistic vision to capture the desperate plight of refugees and other impoverished peoples by exposing the resilient and enduring inner-beauty that lies beneath the hardship of their everyday life. Ms. Terry's humanistic images have recently been shown at the Lincoln Center, the Chashama Gallery, the Honfluer Gallery, and on the HBO documentary "Sand and Sorrow".
Ancient Astronauts
Their very name, "Ancient Astronauts," implies a mash-up of the distant past and the far future; traits exemplified in their melding of old school hip hop, funk, and dub reggae with forward-thinking flair and production technique. The Ancient Astronauts are Kabanjak and Dogu hailing from Cologne, Germany . . .via outer space! Coy with their true origins, the duo can only confirm that they returned to planet Earth in 2001 after traveling the musical cosmos for thousands of years.

Those familiar with the phenomenon of "ancient astronauts," a belief that extraterrestrial beings visited Earth in ancient times to mingle and trade ideas with early human civilizations, won't be surprised that upon returning this particular spaced-out duo quickly set up a terrestrial sound studio, a record label Switchstance Recordings, and a successful production, remixing and DJ career dropping sound bombs all over the world.

Already having remixed for Fort Knox Five, Up Bustle & Out, Ladybug Mecca of Digable Planets, Zion I, and Dr. Rubberfunk the Ancient Astronauts have linked up with a variety of new sonic collaborators including Bootie Brown and Imani of legendary hip hop group The Pharcyde, Azeem, Tippa Irie, Bajka, Phat Old Mamas, Ulf Stricker, Raashan Ahmad and Entropik to record their debut album We Are To Answer! A block-rockin' boom-bappin' sonic tour-de-force, We Are to Answer is a musical vision of life on Earth and beyond!

The label itself is famous in the international club and boardsports circles for its extremely funky productions as well as the dynamic sets of its DJ Collective. Renowned events such as Air & Style/AUT, Winter Music Conference/USA, Midem/FR, Roxy Chicken Jam/CH, Burton European Open/CH, Popkomm/GER and many more have experienced the unique and typical styles of Switchstance, while the likes of Nightmares On Wax, Fort Knox Five, LTJ Bukem, Soulpatrol, Mr. Scruff or Kid Loco have long become fans of the label and its music.
http://www.eslmusic.com/artist/ancient_astronauts