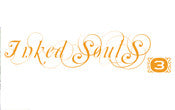 Inked Souls 3 - December 18, 2010
$0.00

Art Whino joins forces with Tagür Footwear once again for their third edition of Inked Souls, an exhibition featuring customized sneakers and fine art by local, national and international leaders in the Pop Surrealism/Urban Contemporary art movement.

The Inked Souls exhibit will spotlight the art of individual customization. Each invited artist will be given a pair of blank AKA Tagür sneakers to bring to life with their unique style and perspective, which ranges from urban graffiti to traditional oil on canvas, and from abstract to figurative interpretations. Their broad spectrum of chosen technique and adaptation, contrasted with the blank sneaker canvases promises to deliver an exciting look at the different artistic perceptions of these talented artists. As a part of the final exhibition, the artists will also complete a canvas piece to be exhibited above their customized sneakers so that the audience can see how they successfully bridged the gap between 2-D artistry and the third-dimension.

Among the sneakers being exhibited some of them will have an opportunity to become mass produced by Tagür which will be carried Nationwide in the Finishline retailers and Footaction stores. Many household name celebrities wear Tagür and support the brand. The more support Tagür receives from consumers through purchased products, the more we can support the arts.
Saturday, Dec 18th, from 7pm – Midnight
NEW LOCATION!!:
Art Whino Gallery
122 Waterfront St.
National Harbor, MD 20745
Down the block next to Elevation Burger
Show end date: January 21st
Hosed by R&B Singer MYLA & LYLE SILVA of Omarosa's "Ultimate Merger"
Tunes by DJ Heat and DJ Lil'MIC
Musical Performances by Tabi Bonney and Phil Ade
The event is FREE and open to the public.
Tagür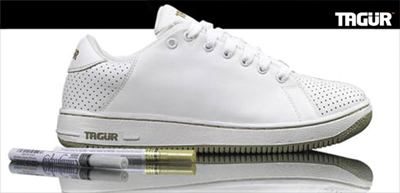 Tagür a dynamic sneaker company that allows the consumer to become the producer. Any artist whether internationally renowned or novice can have a shot of having their own sneaker line. Custom shoes are placed in events and online and are open to voting. Shoes that get significant votes have the opportunity to become mass produced and sold around the world, giving full credit to the artist. YOU are the artist, you are the market, you deem what is legit.
Kicks for Kids v4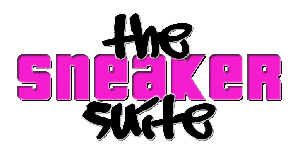 The Sneaker Suite, for a fourth year in a row, will host their annual Charity Shoe Drive 2010 entitled Kicks for Kids v4 at the Art Whino space in the National Harbor. The Kicks for Kids program is a collaborative community effort to help support children less fortunate in the Washington DC Metropolitan areas. This year, Kicks for Kids v4 affords children (4-12 years old) spending the Christmas holiday in Childrens National Medical Center an opportunity to receive a fresh new pair of shoes to walk out in with once healed! The Sneaker Suite will partner up with a local retailer, a local radio station and 3 year supporter of our charity program Scion to help us reach our community goals and expand our community efforts during the 2010 holiday season. By engaging individuals and organizations that share similar missions within the region, we plan to create a unique appreciation incentive to those who donate. Each individual that donates $10-$20 dollars towards the purchase of a brand new pair of shoes will receive a special swag bag courtesy of Scion and a complimentary friends and family discount at our local retailer partner. In addition, each individual that donates will receive complimentary food and an open bar on CIROC Ultra premium Vodka
Check out last years Kicks for Kids v3 charity shoe drive: http://bit.ly/k4k2009 (video) http://bit.ly/k4kradio (radio) http://bit.ly/k4k09pics (pictures)
Musical Performance by Tabi Bonney
Tabi Bonney is a rising star out of D.C. by way of the African nation of Togo. Tabi's drive and talent are unparalleled; he secured regular video rotation on MTV and national radio play with his hit singles "Nuthin' But A Hero" and "The Pocket," all without an official record label or distribution deal. Tabi managed to do all this while running a successful clothing line (Bonney Runway) and his own video production company (Cool Kids Forever Films). His new album "Fresh" is his most anticipated work yet, with tracks drawing influence from everything from r&b to indie rock, and that span the gamut from hard street anthems to ethereal synth-pop driven ballads. Featuring production by Kokayi, Jon Redwine, Nesby Phips and guest appearances from Pusha T, Wale, Raheem DeVaughn, Curren$y & more, "Fresh" is set to satisfy. Two singles come in advance of the album, the first features one half of the acclaimed rap duo Clipse: Pusha T. On this instant head-nodder; "Make A Killin," Tabi and Pusha let the fans know what their grind is all about. The second is an up-tempo electro influenced track called "Galaxy". These two records showcase Tabi's amazing diversity and give a taste of what is to come. "Fresh" drops November 22nd on iHipHop Distribution/FRANKRADIO.
Musical Performance by Phil Adé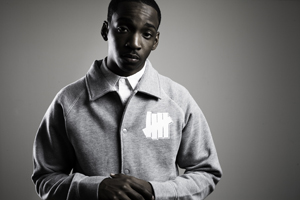 Born Philip Adetumbi, Phil Adé comes from an interesting mix of wordly culture. His Grenadian mother and Nigerian father made sure to keep him close to his strong family heritage. Before settling in the DC metro area, Phil Adé lived in California, Alabama and Florida while his father took various positions in different cities. These experiences, matched with the cultural influences that his parents made sure to incorporate in his life, gave Phil Adé a valuable and international outlook on the world around him.
Alex Aviles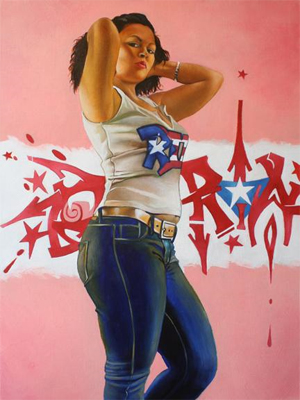 Elstabo is a product of Brooklyn New York. His professional career Started when he first saw one of his logo designs displayed on a Highway bill board. His experience flourished while picking up varies jobs with-in the Commercial and Fashion art fields. Designing anything between Cd music covers to childrens clothing. The Fashion Institute of Technology was where he acquired his BFA, and shortly after he dives into the Fine arts field showing in such places like CBGB Gallery & music scene to Art@large (Pet Silvas) Erotic art gallery. In 2006 he moved to Northern Virginia where he balances a fine arts and commercial artist career. He has affiliated himself with such places like Artwhino located in Maryland at the National Harbor.
His most recent publicized works can be found in "Aphrodisia: Art of the Female Form book" Aristata Publishing, The World's Greatest Erotic Art of Today" by Erotic Signature and his Self Published work " Elstabo's Spanish Fly series" on Blurb.com


Angry Woebots
Aaron Martin was born on the island Oahu 1977, Hawaii. Most of his childhood was spent growing up and moving from Southern California to Nevada before finally landing back into Hawaii during his Junior year in high school. In 1999 a car accident changed everything; this life-threatening experience inspired him to leave the island once again, this time to Seattle, Washington. Inspired by the rain and being indoors, he started playing around with different art mediums again. He then left back to Hawaii with a new perspective, Aaron had his first show in 2002 and has not stopped. He has showed in galleries up and down California, the east coast, and even in shows that have traveled from the U.S. to Hong Kong. His focal medium is acrylic paintings on wood and canvas. Using minimal colors and detailed character design, these paintings are usually comprised of stressed out emotional pandas. The pandas tend to represent the story of struggle.
Brian Robertson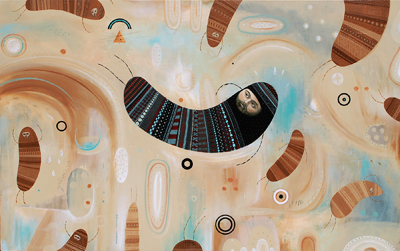 Brian Robertson was born in 1978 in Alb. N.M. Over the past several years Brian has been showing his artwork around the U.S. with various galleries, collectives & other art organizations. His work is the product of a restless brain attempting to make sense of the world it finds itself in. Brian currently resides in Los Angeles, CA. with his loving girlfriend Sydney & their cat Physics.

Charlie Immer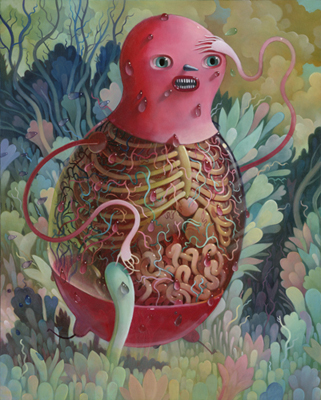 Charlie Immer, born 1983, lives in Maryland with a collection of skeletons and candy. Charlie enjoys dissecting his subjects which creates a contrast between colorful simple characters and the beauty of the anatomy within them.
Dave Chung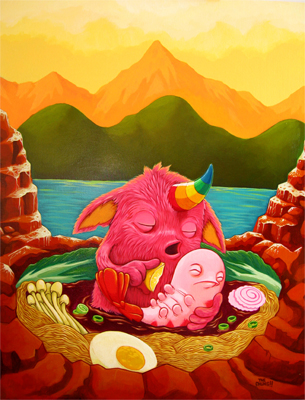 Dave Chung's (aka The Chung!!) work of cute and colorfully vibrant creatures is an observation of the awkwardness and humiliations we experience as we age and live as human beings. Due to his father's job, the Chung family was always moving around. Having grown up in fast paced brightly colored cities such as those found in Hong Kong and Taiwan, and then spending the later years of his childhood in Upstate New York and the Midwest, Dave was always new to every town he moved to. And being the new kid to every town and city meant many awkward and humiliating experiences. Although the stories that embody his paintings are generally reflections of his own unique personal experiences, many people are able to relate and laugh along with them. Dave has had his work shown in galleries world wide and is currently living in Los Angeles, California as an illustrator/Fine Artist.
Joey D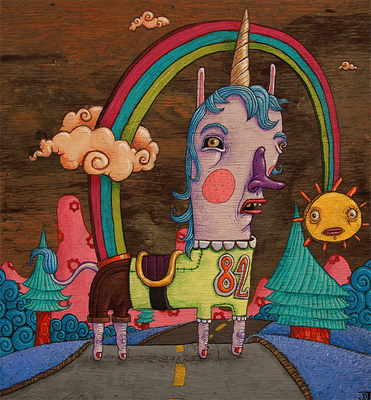 Joey D. is a Chicago-based artist and animator. Growing up he watched a lot of television and played lots of video games. Reading comic books and eating tons of junk food has also messed up his brain. Trying to make sense of it all, he escapes into his world of imaginary friends and other made-up things.
Jophen Stein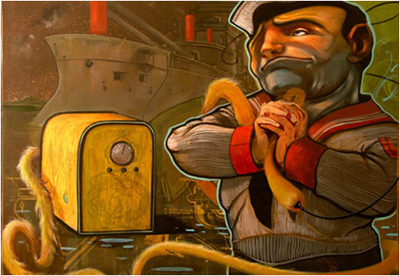 Jophen Stein is a graduate of the Laguna College of Art and Design. After establishing the Snootson family showcase in 2004 his distinctive style has gained national recognition over the past couple of years. Despite the minor set backs of being banned from Idaho and Iowa Jophen Stein continues the SFSC series from his studio in Pomona.
Josh Taylor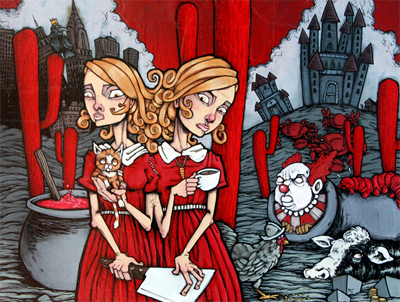 JOSHUA TAYLOR was born in New Jersey and continued his downward trajectory in hellish locales in up-state New York and North Carolina before honing his art skills at Pratt Institute. Upon earning his degree, he traversed the country, from California to Vermont, pursuing his art career. His fine art has appeared in galleries in LA, NY, Europe, and the Philippines, and has also been featured in various publications worldwide. Taylor's current body of work focuses on the history, myths and legends of his "Gastonian Multiverse", an odd ancient doppleganger reality where the laws of physics and the very fabric of time and space are falling apart at the seams. He currently resides in Baltimore where he paints, pays for parking, and works on a series of graphic novels and web comics entitled Bird & Girl.
Mary Spring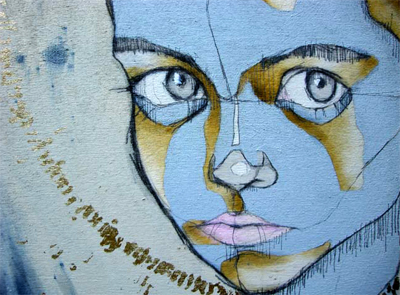 Mary Spring's figures are at once both self portraits of the present and projections of internal hope for the future. Each representation depicts the panoptic range of mental, emotional and physical conditions experienced in a mere snapshot of time, enabling the observer to merge silently into the psyche of the artist.

From ultimate pleasure to unbearable sadness, each expression communicates the profound casualties of insight. The integration of medium and mechanics with design and spirit, lead to the paradoxical enlightenment and anguish portrayed at the moment each stroke is applied.

Self-realization emerges from the artist as the feminine heart, the kinesthetic demands of performance and dedication, and the consequential strength are unveiled in each expression. Pain synthesized into passion. Time united with eternity.
Melanie Pruitt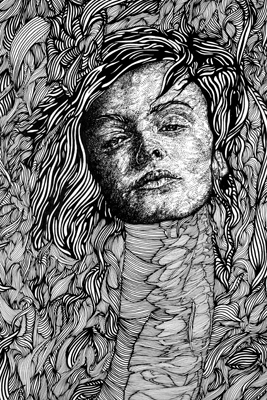 I find solace in studying the beauty of human history. The details of its emotional complexity to the organic patterns of the Rocky Mountains that surround me inspire an obsessive love of line, form, and movement. These intricacies translate both realistically and abstractly into my creative process.
Patrick Haemmerlein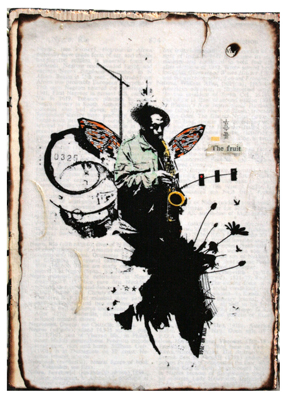 A native of Kinderhook, NY, Patrick Haemmerlein is a freelance graphicdesigner & artist living in Los Angeles. After receiving his BFA from The Savannah College of Art and Design in 2000, Patrick took the long road trip cross country and settled down in LA. There he began to obsessively photograph the city and its components. This gradually moved into a new art form as he started to combine & create with the images he was shooting. Reflecting on the issues of the day, Patrick explores themes of nature Vs. industry and how they can coexist or clash. The images are all designed from photographs that Patrick has taken. The buildings and cityscapes are from Los Angeles while the animal and farm photos were mostly taken around his hometown area in upstate NY. They are not only a juxtaposition of nature and industry, but a combination of imagery from his two homes - one rural and one urban.
Paul Chatem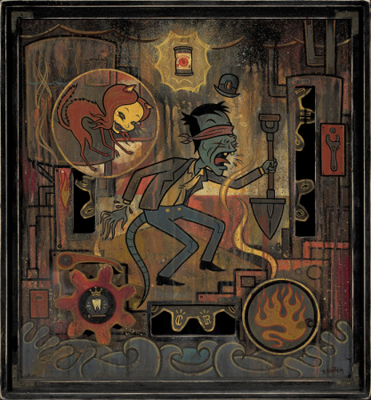 Paul Chatem was born in 1974 in Bellevue, Washington. He grew up in La Crescenta, CA, a foothill town that kept itself apart from the city of Los Angeles it looked down on. This separation between rich and poor, the lucky and the down-and-out, has always been a connecting theme and influence in his paintings. After graduating from the Kansas City Art Institute in 1997, Paul showed his work in coffee shops and group shows around Los Angeles. At that time Paul
had two bodies of work, clean lined ink work and surreal oil paintings. Both were ambitious but seemed to be disconnected from the other. In 2001 Paul backed off from showing to develop his work. What came from this was a new style that combined aspects of those earlier works, taking the narrative aspects and clean lines of his comic book influences, mixed with more painterly aspects he
developed his first solid body of work.
Paul Shih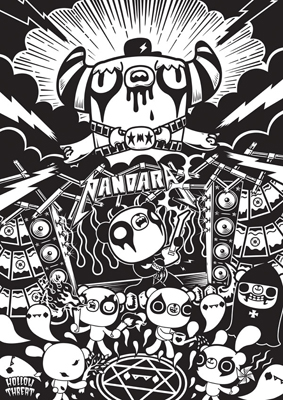 Paul Shih is an artist / designer in New Zealand, originally from Taiwan, where culture is a heady mix of diverse influences. Paul was educated in New Zealand, he graduated from AUT (Art and Design) in 2004.

His work is about events, characters, and is inspired by his surroundings to create a visual world that tells the story. Throughout the time, Paul has developed a unique style called 「Paper Diorama」, which combined illustration and photography techniques.
Peabe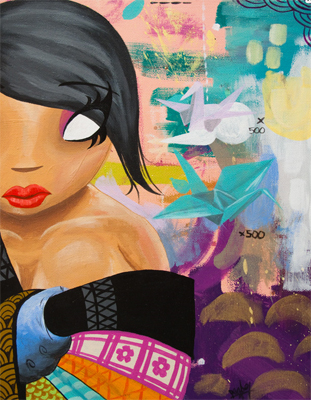 Born and raised in chicago and now living in oakland. peabe started drawing at a young age due to his grandfathers influence. as he grew, the still life wasnt exciting to him and having drawing wars with friends is what led to the nonsense of today. His early inspirations were from riding the "el" as a youngling to and from school and noticing the awesome graffiti around him. Annoyed at how the other train riders were ignorant of the awesomeness around them, he began to observe everyone was pretty much in a "zombiotic" state. this led to the early sketches of his zombies. his characters are emotionless zombies surrounded by a beautiful world that he hopes they will eventually wake up to, and some do.
Sue Works and HermLife!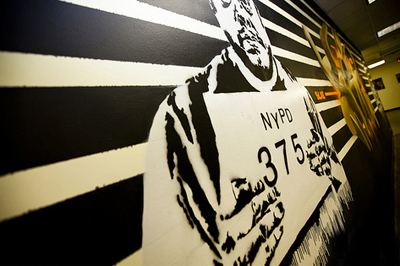 Like Batman and Robin, they speaks strictly in clipped, short, powerful expressions of wonderment written large in neon letters across a perpetually hazy backdrop of pop culture references and cheap beer.
They are a neo-absurdist, a post-soda-pop burp upon the scene who mixes and marries humor, intellectual hypochondria and classical thought.
Tony Philippou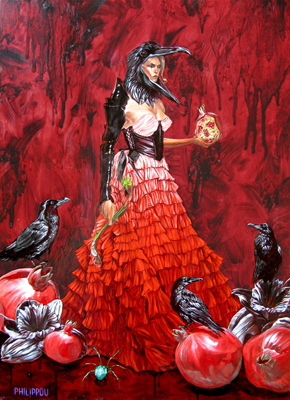 Tony Philippou's work centers on the juxtaposition of conflicting stereotype's. To create a sense of harmony in a world that shouldn't be possible. His body of paintings is based on figurative forms of Iconic personalities that are then tightly rendered in very loose or controlled environments. A blend of Art Nouveau, figurative, abstract, and surrealism are fused for a more dynamic composition.

Recently, Tony has completed a longstanding series on the religious figures of Jeezus Piece, Judas Piece, and The Vixen Mary. A complete remix on the Iconography and ideology of these characters, Intending them to be as far away from what you would expect. They are everyday people looking fly in different stylized settings. The halo and sacred heart symbolizing their divinity was individualized for each character. Mary has her heart adorned with flowers, Jeezus Piece has thorns and Judas Piece has a snake. All halos were meant to be design elements with contrast in color and dynamics.

His new body of work centered off of Greek Mythology, Roman art, and New York ideology. In which a variety of Mythic super heroes from huge civilizations can exist in a retroactive lifestyle battle to see who is the Flyest.
Ursula X. Young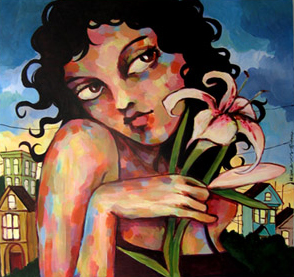 Over the past fourteen years Illustrator, Painter and Designer Ursula Xanthe Young has become known for her unique flowery urban fairytale illustrations. Graduate of Parsons School of Design (Illustration, BFA, New York 1996) Ursula exhibits frequently in the bay area and has sold paintings in New York, London, Singapore, Manila, Hong Kong and all across the U.S. Ursula finds inspiration in the organic yet urban landscape of San Francisco and its surrounds; the crossed wires, victorian buildings and fog-filled horizons, that are oft backdrop to her brightly painted doe-eyed flower girls. She is also highly influenced by her frequent travels to the far-flung reaches of the globe and the variety of colorful characters that she encounters - both real and imagined - along the way. Due to her love of electronic music since the early 90's, and the culture that surrounds it, Ursula's art can be seen on CD & record covers of dance music labels including Om records, Safe In Sound Music, Loveslap recordings, 2 Block Radius & Panhandle records. Along with murals, apparel & club flyers, her art can be spotted in magazines & ipod covers and in boutiques across the city of San Francisco and beyond. Originating from the green rural dales of Northern England, Ursula has spent much of her time since then traveling and has studied art in New York City, Florence, Vermont, Oslo, and London. After ten years making her mark in the Lower Haight neighborhood of San Francisco, she recently relocated to the Sierra Nevada foothills of Northern California - this time to a remote spot in the forest - where she's busy finding a whole host of new inspirations.
Walt Hall
Walt Hall was born and raised on the mean streets of kilaminjaro. at the age of seven he stowed away onboard the hms mcguillicuty, whose privateers had sworn a blood oath to seek and destroy the barbary pirates. after twelve years at sea he bid farewell to his comrades and joined up with a series of leftist guerilla movements in the jungles of peru. although the liberation front hated to lose his contributions, three years into the struggle he was secretly extracted, via the underground pipeline of jesuit missions and chinese yo-yo distribution centers, and given a new secret mission. a mission from the very top. the objective- the elusive double agent marco. marco was a worthy adversary indeed, constantly slipping away just when he finally seemed within reach. but in the end he was no match for walt hall. Aided by his superior horsemanship and vast knowledge of local cossak customs, he finally trapped marco once and for all inside of a creaky church copula somewhere in south west ukbekistan and promptly turned him over to the turnip police for a lengthy internment on a secluded penal island thirty two minutes north west of guam. In his spare time Walt Hall enjoys weaving over sized afghans from the wool of his prized llama, Freddie. He also fancies painting.