HENSE - October 6, 2012
$0.00
"Hense DC
"
Full building wrap by Atlanta Based artist Hense
 right here at the Nation's Capital!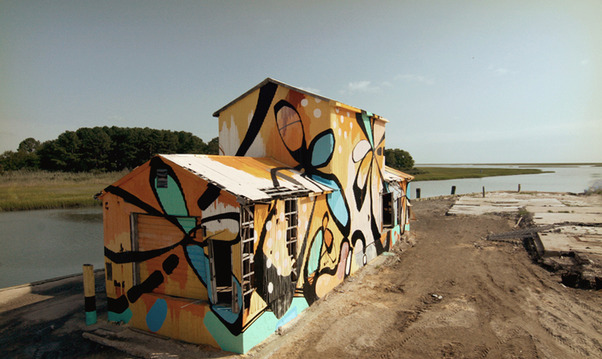 Eastern Shore  Oyster, VA
Art Whino is pleased to announce a very special project in the Nation's Capital with Atlanta-based artist Alex Brewer, better known as HENSE. HENSE's unique language of organic shapes and abstract approach sets his work apart from the rest and results in work that is instantly recognizable. Among his many mural projects he recently completed murals at the Museum of Design Atlanta, the Canal Walk in Richmond, VA and the Virginia Museum of Contemporary Art. When we were granted the privilege of painting an 10,000sqft building in the SW corridor of DC, HENSE was the perfect choice to bring new life to this area of the city with the great energy and lively color of his shapes. Just a short walk from DC's second annual contemporary art fair, the project will bring an interactive component to this year's (e)merge.  Visitors will be able to come to the project site and see the artist at work as the mural evolves over these four days of the fair. On Saturday, October 6th, we will host an outdoor reception to welcome HENSE to the city and celebrate his work with live music, food and complementary beverages for patrons who RSVP in advance to this event. 
About the Artist
HENSE
Born and raised in Atlanta, Brewer has been painting for about twenty years. He developed much of his technique in the street as a prolific graffiti artist and later muralist, working under the moniker HENSE. Atlantans have long enjoyed his verve for capturing the energy of place in commissioned public art for the City of Atlanta on the Beltline, the Shops Around Lenox, and for the permanent collection of public art at the Atlanta Office of Cultural Affairs. Brewer has also painted in numerous U.S. cities outside of Atlanta and abroad in Spain, France, Japan, Taiwan and Mexico. His work has been exhibited in galleries in Atlanta, Los Angeles, Minneapolis, Miami, New York, Richmond, San Francisco, Tokyo, Taipei, and Barcelona. His client list also includes AOL, Adidas, Sprite, Hilton Hotels, TED, T-Mobile, Ford, and Kia. Brewer recently erected a large installation at the Museum of Design Atlanta and at the of July begins a large mural at the Virginia Museum of Contemporary Art. After a humble beginning roaming the roads with a spray paint can as a young man, his career has recently exploded like the pastel shapes and scribbles of his paintings. Selected exhibitions and projects include "Soft Light," Sandler Hudson Gallery, Atlanta, GA, (2008); Mark Making in Black and White, Sandler Hudson Gallery, (2011); "Letters First," Tokyo, Taipei and Barcelona, (2006); "Skate it or Hang it," Museum of Design Atlanta, (2012); Public mural, Virginia Museum of Contemporary Art, Virginia Beach, VA, (2012); Float, Public mural, City of Atlanta Office of Cultural Affairs, (2011); Loose, Public mural, RVASAF, Richmond, VA, 2012. Brewer lives and works in Atlanta, GA.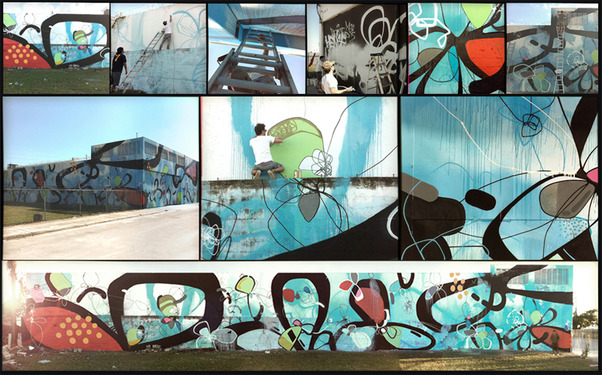 Art Basel FL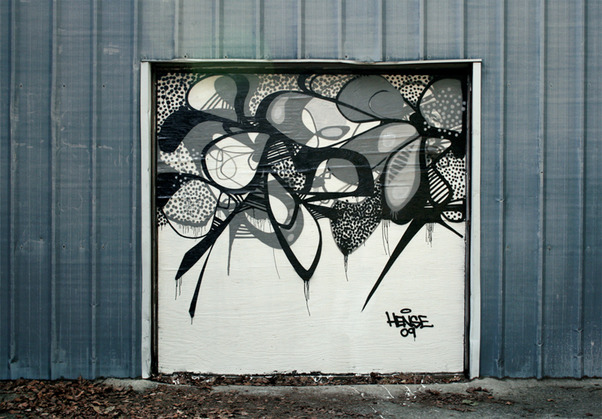 Atlanta, Ga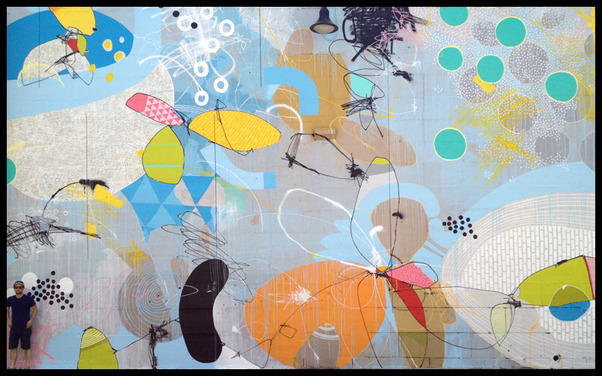 Richmond, Virginia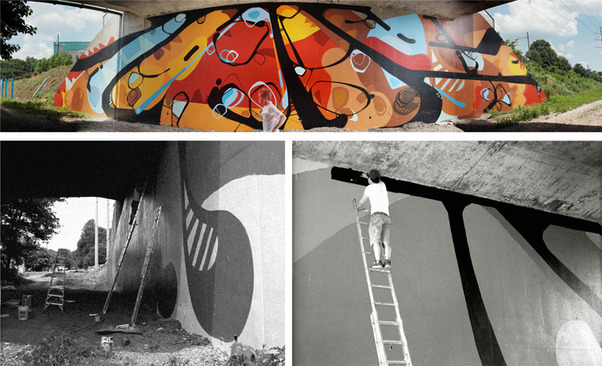 Atlanta, Ga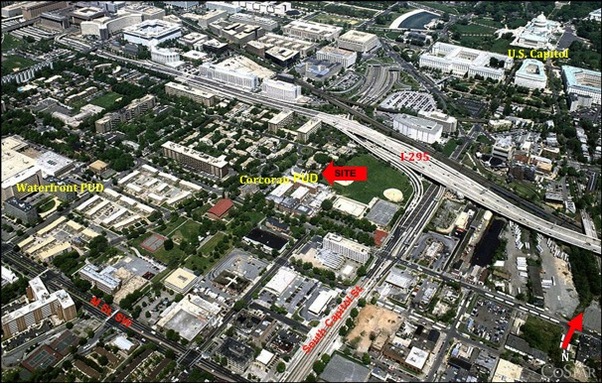 Musical Performance By Congo Sanchez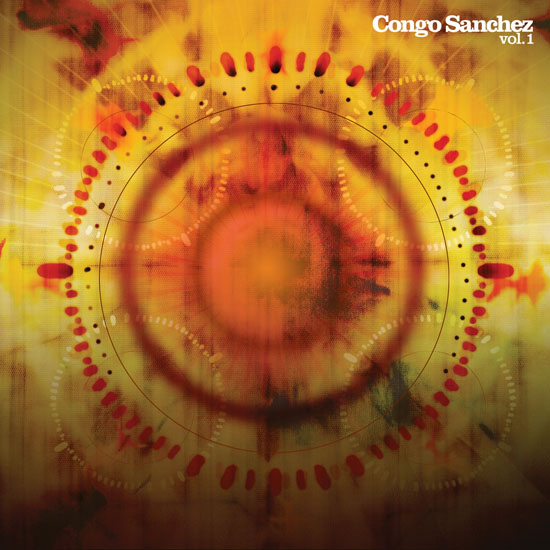 Congo Sanchez the backbeat of the Washington DC party scene.  As one of the city's most adept instrumentalists, he is the favored sideman and producer for dance bands and world music ensembles alike. His contributions to The Empresarios Bestia EP, Funk Ark's From the Rooftops and Thievery Corporation's Culture of Fear stand out with distinct character. He finally steps out on his own with his solo debut, Congo Sanchez, Vol. 1, out April 17, 2012 on ESL Music.
Musician and Selecta extraordinaire, Congo can generally be found in one of two places. If he's not on the road drumming with DC's own, Thievery Corporation or See-I: he's  jamming out to fresh vibes at the mysterious Lillypad studios.   He is developing a unique blend of Afro-Latin Dub, as he evolves in to his own on the DC music scene. This EP-his first solo outing-proves that the sound is here, and Congo Sanchez is the ambassador.  His over-all taste, and musical personality are a delight, with a superlative sense of rhythm and a musicianly approach to arrangements and melody.
"I embodied Afro-Cuban and Haitian rhythms while accompanying for world dance classes, and began composing pieces for Solo Percussion and Chamber Jazz Ensembles….built a DIY home studio and started to produce my own beats with these ideals in mind."
Congo produces and performs everything on the EP, with two notable exceptions. Karen Joy McCoy plays shimmering violin on "Democrazy," the opening track, while the horn section from Ikebe Shakedown – Morgan Price, sax; Jason Colby, trumpet; Nadav Nirenberg, trombone – add their blazing ensemble work to "T.E.T.O. (strut)" . Congo lays down subtle keyboard textures and multi-layered percussion tracks throughout, giving the music an otherworldly vibe rooted by his earthy backbeat.
"During college, I took interest world music. I learned of the Yoruba and Fon traditions of West Africa and how they remained vital throughout colonialization in the Western Hemisphere. All the time re-discovering these rhythms and melodies in music that I listened to growing up in suburban America."
Congo Sanchez knows his roots and leads the listener on a fascinating journey along the vibrations of DC's outernational sound.