2015 G40 Art Summit - September 12- 26, 2015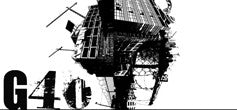 Presented by Art Whino, the annual G40 Art Summit group art show brings together world-renowned artists for a month long exhibition, with works in Low Brow and street culture expression, that reflect a particular theme.

The 2015 G40 event will once again be a building 'takeover,' showcased at a 20,000 square foot site in the heart of H St Corridor at 700 H Street, NE. The event is also the first for the 'Whino on H' satellite location of Art Whino, bringing a whole new experience focusing on entertainment.

With an 'Installation' exhibition theme, participating artists will create their own artistic environments with large scale art pieces which they will superimpose their canvases and works on paper.

The 2015 G40 Art Summit will also include a large group show including works from over 70 different artists from around the world, providing audiences and viewers a broad cross section of the wide variety of work that falls into the Low Brow genre.

To compliment the more than 500 pieces of art exhibited inside the space, the exterior of the building will be painted by Polish artist Pener (Bartek Pener Świątecki), with a dramatic mural wrap.

Pener will paint the H Street and 7th Street sides of the building, completely transforming the exterior on a very busy corner into a large-scale work of art for the community and aficionados of street art alike. Continuing with the G40 tradition of month-long programming in conjunction with the exhibition, there will be a range of events and activities for patrons to enjoy and return to see the exciting space multiple times.