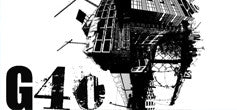 2014 G40 Art Summit- September 14 - October 4, 2014
$0.00
G40 Art Summit is a yearly group art show that brings together world renown artists for a month long exhibit with a different theme every year. This year's show focuses on artwork that goes beyond the traditional two dimensional canvas. Artists are challenged to approach their work in a multi dimensional format which will expand boundaries and grow possibilities. Artwork will include layered canvases, art on found objects, free standing pieces, and many more creative approaches to the challenge at hand.  The exhibit will take place at Blind Whino for the second year running. The building's many nooks and ample spaces provide the ideal backdrop for installations that will transform the space into living art.
Continuing with G40's tradition of month long programming in conjunction with the exhibit, there will be a range of events and activities throughout the month for patrons to return multiple times.  Besides the opening and closing receptions there  will be special events like a wine showcase with performances by legendary musicians Brand Nubian and Black Sheep, as well as an outdoor arts and crafts showcase as part of the SW ArtsFest.
About the G40
The first G40 Art Summit in 2010 compounded artistically explosive cultures from all over the world and brought them to the DC metro area. By bringing all of these cultures from throughout the world to one place it allowed the visitor to be fully immersed in over 1000 works by 500 artists organized by floors corresponding to their cultural hubs.  In 2011 G40 delved into the new brow art movement which is at the forefront of creative culture and growing, with hundreds of thousands of fans throughout the world. Some of these genres include customized collectibles, skateboard art, stencil, wheat paste and 3D installations.  In 2012 the theme was the "Art of the Mural".  Traveling to Richmond, VA. and inviting 12 of the top mural artists from around the globe to unleash their creativity to 20 large scale walls throughout Richmond as well as having six exhibits in pop up galleries along the main street of the arts district. With two dimensional work and installations by each mural artist, these shows offered the opportunity to experience a more personal scale and a closer look at the execution and detailing of the mural artists' work.  In 2013 a 138 year old vacant church was given new life with a full mural wrap on the exterior building by Hense and a massive interior mural by Australian artist Meggs.  In keeping with this spirit of this transformation of the building the theme for the group art show was Transformation as artists were challenged to use found objects and re-purpose them in their artwork.