2011 G40 Art Summit - May 13 - June 17, 2011
$0.00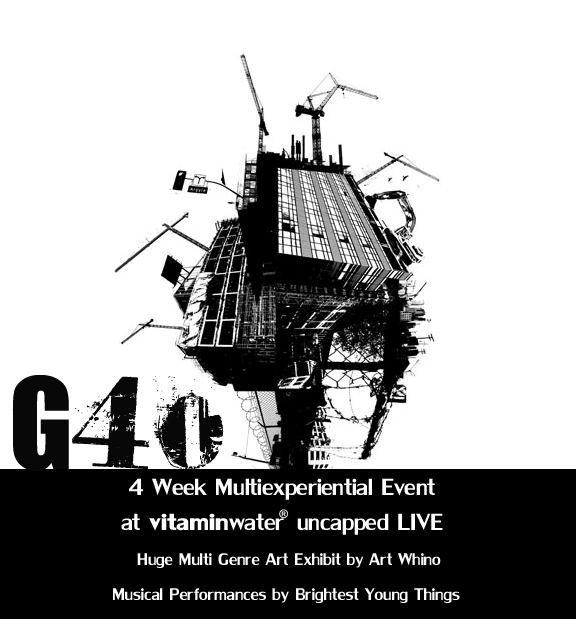 Art Whino returns in 2011 for the second edition of G40. The first G40 art summit in 2010 compounded artistically explosive cultures from all over the world and brought them to the DC metro area. By bringing all of these cultures from throughout the world to one place it allowed the visitor to be fully immersed in over 2000 works by 500 artists organized by floors corresponding to their cultural hubs.
This year G40 explores not cultures but the genres which are on the forefront of creative transitions and growing in large scale with hundreds of thousands of fans throughout the world. Some of these genres include Customized collectibles, Skateboard Art, Stencil, Wheat Paste and 3D Installations.


The G40 Art Summit is a unprecedented experience in the art world with its scale and caliber of artists from around the world. This year the summit comes to the city next to the U street corridor taking over an entire 25,000 sqft building and showcasing art on all of it 4 floors.  From over twenty artists showcasing 16' Murals to traditionally displayed artwork the summit will definitely have sensory overload requiring multiple trips to take in all the treats for the eyes.

Event Location
vitaminwater® uncapped LIVE
2213-2217 14th street NW (the corner of 14th and W NW)

G40 Exhibit Schedule:
Exhibit runs: May 19th-June 17th,  2011
Open Hours: Tuesday, Wednesday,Thursdays and Friday: 7pm – Midnight
Saturdays: 12pm – 2am
Sundays: 12pm – 6pm
Mondays: Closed

Entertainment schedule:
Brightest Young Things will curate unique special events in the space six days a week (Tues-Sun) to include live music, dance parties, local designer showcases and fashion events, photobooths, art workshops and talks, stand up comedy, cult movie nights, record fairs and more, all with the signature BYT flair.


Art Whino Gallery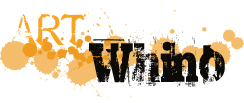 Art Whino is a DC based art gallery whose mission is to bring together the pioneers and freshest talent from around the world. With over 1200 artists in the Art Whino arsenal, ranging from California to New York, Germany to Japan and beyond, Art Whino has become an all encompassing force in the art world. Exhibitions cover the whole spectrum of new art forms ranging from exposing emerging stencil and wheat pasting artists to showcasing the most skilled leaders of many different genres.
http://www.artwhino.com/
Brightest Young Things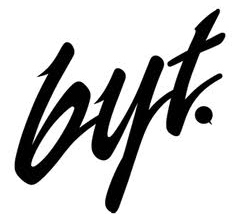 BYT is an online magazine devoted to enriching your life in our nation's capital one.post.at.a.time.
http://www.brightestyoungthings.com/
Vitamin
Water
®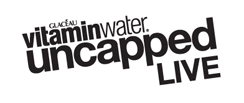 vitamin
water
®  
uncapped LIVE
is a lil' bit of local color on the canvas of life – a destination that promotes the creativity and active lifestyles that d.c. embodies so well, while supporting the passions that resonate within our city.  the venue's upcoming schedule includes the likes of local d.c. musicians, artists, designers, athletes and action sports enthusiasts who will all come together to share their talents and experiences in this fully functional space throughout the months of May and June.


Custom Vinyl Show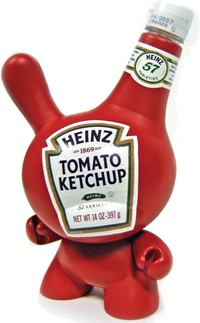 D.I.Y. (Do It Yourself) Vinyls are the blank canvas of collectible toys. Starting as a lifeless shape, artists conjure up characters with their creative tools, transforming these figures into unique toys bearing the mark of their creator. While most shows that feature these artists' D.I.Y.s show several artists' versions of the same given blank toy, this customized vinyl show will turn the tables by highlighting the work of this medium's leading artists with various toys. G40 will team up with Vinyl Artist, Sket-One to show the countless possibilities explored by these artists; from simply painting the figures such as KidRobot's Munny, to morphing the collectibles beyond their vinyl beginnings.
Skateboard Art Show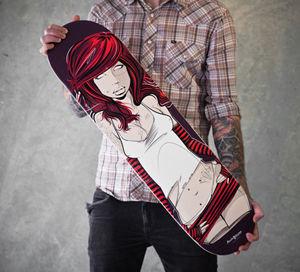 Skateboards have long been the means of expression for the skateboarding community. With close ties to the beginnings of the new brow art scene in California, the artistry seen on skatedecks as far back as the 1970s strongly influenced members of this movement. For this reason we pay respect to this community by exploring the many possibilities of the skatedeck as work of art. Used in various media, from illustration to three-dimensional sculpture, the board is the connecting theme and protagonist throughout these pieces.


Wheatpaste Show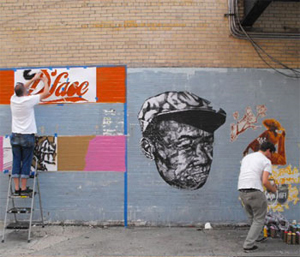 Wheat paste is an adhesive made of vegetable starch and water that has been used for centuries as a means of adhering paper to a surface. The unique quality of this paste is its ability to stick while still allowing for peeling off without ripping. Historically, the adhesive was used by activists and various subculture proponents for flypost propaganda and for advertisement posters. In the Street Art culture this paste is used as a means of adhering works, previously created on paper, to a city wall. For this reason, this art form is known as "wheatpasting". We will exhibit the work of artists pushing the envelope in this evolving art form.
Stencil Show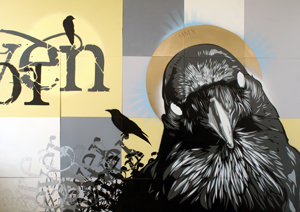 Stencil art has long been used by street artists as the weapon of choice for expressing themselves on the endless canvas of the urban fabric. Because of the need for quickness in public spaces, stencils  began as simple cut outs and only involved one or few layers of stencils. With the spread of the new brow art movement stencils have evolved to become an involved process with sometimes as many as 350 layers. This group show will highlight the freshest methods and techniques as well as the ever growing subject matter portrayed by these artists.
Mural Show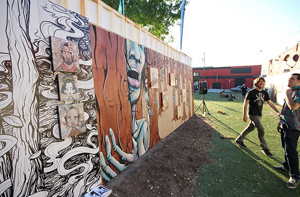 Scale has the power to alter perception. Larger than life scale creates a feeling of surrealism, as the viewer becomes aware that what the eye is seeing is unreal. This mural show will challenge a group of artists to create an 8' x 16' work of art. These pieces will allow the one to step into the artist's creation through their colossal scale and create an environment that is other worldly for the viewer.
John L. Sullivan Themed Show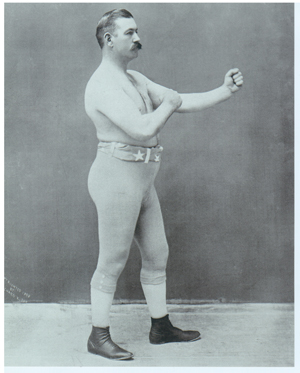 John L. Sullivan, also known as the Boston Strong Boy is last heavyweight champion of bare-knuckle boxing back in the 1800's.  He was the first American sports hero to become a national celebrity and the first American athlete to earn over one million dollars.  With over 450 fights under his belt he is the stuff of legends.  We bring back this legend 130 years later with the first group art show honoring this American icon.  With over 40 artist interpretations of this figure,  the representations of the lost art form of good ole bare-knuckle fighting will be diverse and always legendary.
See more about Sullivan
Here
microWave Project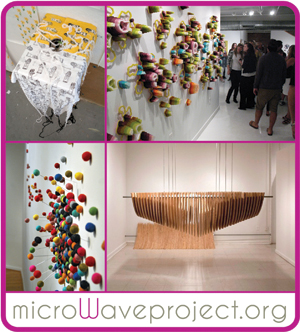 microWave project is back, bringing a group of artists that will transform this DC office building into art itself through incredible site specific installations. These artists use the space as their canvas, and transform it into an environment that takes the viewers' art experience to whole new level.
http://microwaveproject.org