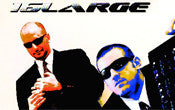 16Large - July 10, 2010
$0.00
"Make Me Crazy" music video premiere
Saturday, July 10th, 2010
7 PM to 11 PM
FREE admission, cash bar
Art Whino gallery
173 Waterfront Street
National Harbor, Md 20745
16 Large LIVE performance
DJ sets by:
B-Team (Funkweapons.com)
DJ Atticus (DJAtticus.com)
The wait is over! Come out and be one of the first to see the new video for "Make Me Crazy" by 16 Large. Thrill to the stylized visuals in the premiere 16L video. Groove to the sounds of DJ Atticus and B-Team! And move to a LIVE set from 16 Large featuring new, never-heard before tracks. All while surrounded by some of the hottest contemporary art adorning the walls of our gracious hosts, Art Whino. It's a party at the National Harbor on a magic Summer night in DC. Don't miss it!
Utilizing thick beats and heavy synth lines, this DC area based duo bring a unique noise to dance floors and earbuds alike. There may be a bit of a retro feel to their music, but have no doubt: This is a modern sound. While being influenced by pop dance hits, 16 Large is not obligated to follow that formulaic structure. Much of their music has a rock and roll sensibilty. Flashy ... fun ... and in your face. The aim is to make grand and dramatic music that is still highly relatable. 16 Large is getting ready to release their first EP in 2010. The self-produced 5 track EP shows what one could expect from their live act. The hooks are catchy. The grooves are deep. And the sound is big.
Allen McDaniel and Trevor Krainik have been friends and musicians for decades. Allen played bass and Trevor was the vocalist for the rock band Standard in the early 90's. Playing incredible venues like the legendary CBGB's (several times), the Capitol Ballroom and the National Mall in Washington, DC, they cut their musical chops during a great era of music. Evolving tastes in music led both Allen and Trevor to the DC dance music scene. The boys were inspired by the quality and variety of music in their own backyard.