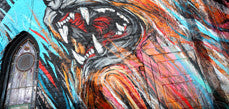 "MEGGS DC
"
Full mural wrap by Australian artist MEGGS 
right here at the Nation's Capital!
Art Whino is pleased to announce the second phase in a very special project at 700 Delaware Ave. completed by Australian artist MEGGS. With a style characterized by bold and energetic paint splatters that give way to a sense of movement in his underlying realistic imagery, MEGGS brings life and color to the second floor of this massive interior space.  This new work follows HENSE's first intervention and colossal undertaking of a full building mural wrap on the exterior of the 10,000sqft building in the SW corridor. Just a short walk from Nationals Park and the Capital Skyline Hotel the work of these two artists infuse color and vibrancy to the thriving SW community.

About the Artist

MEGGS
Growing up in the Eastern suburbs of Melbourne, David 'Meggs' Hooke, immersed himself in the worlds of drawing, cartoons, sci-fi films and skateboarding. In 2000 Meggs graduated from University with a Bachelor of Design and soon after became recognized for stencils and poster art on the streets of Melbourne. In 2004 Meggs became a founding member of the renowned 'Everfresh Studio' a unique collective of street artists known for large amounts of collaborative street work and aerosol murals. In 2010 Meggs art directed and designed the 'Everfresh:Blackbook' a 254 page publication documenting the studio's members, lifestyle and artworks from 2004-2010.The Everfresh Crew have more recently had collective artworks exhibited as part of 'Space Invaders' at the National Gallery of Australia in Canberra, as well as being the first artists to exhibit at the National Gallery of Victoria's (NGV) new NGVStudio space at Federation Square in Melbourne. Thus confirming this unique group's status as historically documented pioneering artists within Australia's 'graffiti & street-art' culture.